5 Kdrama women who take the lead
---
---
"It's a man's world," right? Wrong. After a small debate (read: big argument) with a fellow Kdrama watching friend over the power of female characters, I was persuaded to write this article. There are tons and tons of female leads in dramas, yet my friend argues that they rarely are able to outdo their male counterparts. Thus, I'm about to thrash that mindset by listing five female badasses for you all. Yes, I know there are way more than this, so feel free to add to the list!
1) Kim Seon Hwa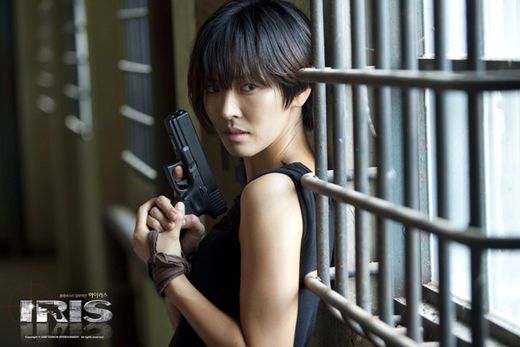 Anyone that watched IRIS knows just how bad this girl is. And not bad meaning bad, but bad meaning good, ya know? Seon Hwa single-handedly hunted down Lee Byung Hun's character and had the chance to take him down. I mean, c'mon, if you can almost kill the show's main character, that should be enough proof right there. Kim Tae Hee's character was also quite powerful, but I'd rank her below Seon Hwa. Not only did this chick make it through all of IRIS, she even got to come back in the spin-off, ATHENA!
2) Gil Ra Im
Just look at the picture. Okay, if it's not already blatantly clear, I'll give an explanation. Gil Ra Im from Secret Garden is definitely, definitely on the list of go-getter girls. Choosing to live a modest life as a stunt woman, this woman already knows how to take down any man. Throughout the series we see her catch thieves, kick butt, and destroy a man's ego. Specifically, the male lead's ego.
3) Seo Eun Gi
Ah, Nice Guy's Seo Eun Gi. So far this list has been girls who have some awesome physical abilities. However, there are lots of female leads who can get their way simply by outsmarting everyone else. Perhaps my favorite female lead, Seo Eun Gi, is a great example of this. Throughout Nice Guy, she literally takes down anyone that dares to stand against her by simply outsmarting them. The main male lead, her father, you name it! She's outsmarted them. Oh, and she has that "defy me and I'll kill you" look going on.
4) Han Jae Hee
Yes, yes, Han Jae Hee is also from Nice Guy. Sorry, not sorry. Part of the reason I liked this show was because the two female leads were completely in charge. It seemed as if they were just throwing the guys around the whole show. Anyway, Jae Hee is the queen of manipulation and although her antics might be used for evil, there's no denying that she's a badass. This woman went further in her threats than any other female I've seen in a drama, earning her a place on this list.
5) Kim Hang Ah
King 2 Hearts' Kim Hang Ah (another strong female played by Ha Ji Won) proved her strength both through her actions and emotions in this crazy drama. As a North Korean officer, we got to see Hang Ah pull off some pretty impressive moves on her opponents. However, she also showed her mental prowess when dealing with the South Korean prince (Lee Seung Gi) and their relationship. Although not as prominent as Gil Ra Im, Kim Hang Ah certainly had her shining moments.
Some honorable mentions who I wanted to include were City Hunter's Nana as well as Athena's Han Jae Hee. Both were completely awesome in their shows, so be sure to check them out! See? There are plenty of strong female leads! Who else did I miss?
In This Article
---
---