72-Year-Old Grandpa Is China's "It" Girl!
---
---
It seems like just yesterday
we were introduced
to the 72-year-old Liu Qianping, but since his first playful photo shoot for his granddaughter's fashion line, this elderly Chinese man has become one of the country's hottest fashion models—of women's clothing. Since his debut as the face of the Chinese clothing line, Mr. Liu has enjoyed a great deal of media attention. He has become a meme, and his image has been circulated by millions on Chinese social media sites and talk shows. It is not an uncommon phenomenon for the country's elderly to entertain with their exhibitionism—it has even spawned a new genre on Chinese video sites called "laolaiqiao," which translates roughly into "Old people doing young things that even young people wouldn't do." In May 2011, Bai Shuying, then 65 years old, shot to the top of the laolaiqiao charts when she turned out an uncanny impersonation of Michael Jackson, pelvic thrusts and all, on the popular reality show "China's Got Talent." Four months later, a choir of elderly amateurs went viral with an adorably choreographed rendition of Lady Gaga's "Bad Romance" as part of a national mid-Autumn festival broadcast. Henan Satellite Television hosts a weekly talent show featuring vibrant seniors. One of them is 74-year-old Zheng Xueming, who can juggle a tennis ball on his knees for hours. The show's producer says it was tough at first to find gifted geriatric types, but after several episodes aired, applications began pouring in. More than 700 seniors, he says, have tossed their names in the hat to appear on "Golden Dream Stage." Liu Qianping has become a sensation in China after photos circulated online of him modeling his granddaughter's fashion line. After rising to fame on the Internet in November, he has done television rounds, receiving a roaring ovation from the studio audience during a recent taping of Henan Satellite TVs "Know Your Roots" in Beijing when he strutted out on stage doing his own version of Korean rapper Psy's "Gangnam Style" dance.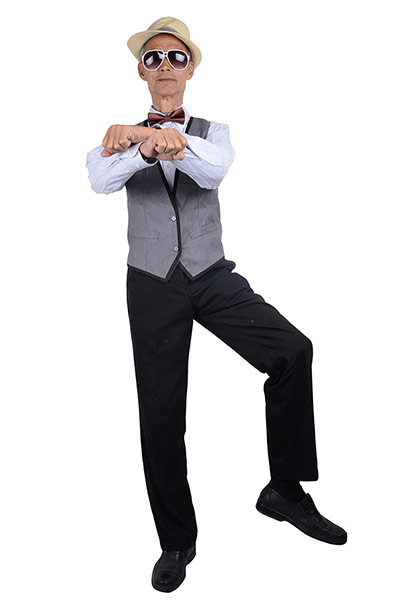 The store's sales have apparently increased fivefold since Liu starting modelling. Netizens have compared Liu to Karl Lagerfeld and expressed jealousy over his slender legs.
What do you think of Liu's young-at-heart style?
---
---