REVIEW: B1A4 Adventure tour is G-rated fun
---
---
While other boy band comebacks are filled with sultry imagery, the B1A4 adventure concert was good family fun.
B1A4 has always offered playful, lighthearted pop tunes, and this hasn't changed as the boys have matured into their 20s. While other groups make sexy comebacks, B1A4 knows their audience. Their Adventure tour played up their bright attitudes for fangirls and families alike. Here are four reasons to check out the next B1A4 concert near you!
1. You can take your family.
Yonsei University's relatively small outdoor arena was filled with fans of all ages and occasionally whole families. Young boys and girls cheered as the boys entered on a Segway procession (risky move, boys) and sang along with their B1A4-themed light-sticks to the beat. Parents had a good time and didn't have to cover their children's eyes. Even the slight hip thrust dance featured in their "Baby Good Night" video was substituted with a less suggestive dance. but older fans still got to check out the boys' muscles when they each performed a drum solo.
---
2. You can see the boys up close and personal.
As the end of the show neared, the boys replayed the song "Cup of Water" as they splashed water on their fans. Given the nature of the arena, each member walked up and down a certain section. This gave all the fans a chance to see and interact with the members when they were close enough to touch. While there were plenty of fangirl screams, there were no stampedes or injuries, thankfully. This wasn't an uncontrollable EXO or iKON concert, which meant the boys could greet the audience comfortably. (Just another reason to ditch your big boy band.)
---
3. You can get tickets.
Buying K-pop concert tickets in Korea is the hardest game of Minesweeper you've ever played. If you're lucky, there will be an English purchasing page. If you're not, you'll need to click through Korean purchasing options at the speed of light to beat the students racing you on the PC bang computers. Bigger groups will sell out in a matter of seconds, leaving you to forlornly watch performance videos on YouTube. B1A4's concert didn't sell out — which left plenty of tickets for foreign fans to purchase that weren't way up in the nosebleeds.
(via: orange-sanduel)
---
3. You can learn the dances without feeling silly.
Despite being a relatively youth-oriented concert, B1A4's dancers seemed older than the boys themselves (all being about 23). The dances were fun and relatively easy — no advanced dance experience required. Anyone can do the sprout dance!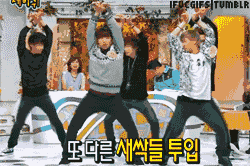 (Gurupop)
Did you see B1A4 in their Adventure concert? What did you think— do you think the boys should keep it playful or adopt a more grown-up image?
---
If you're a fan of B1A4, check out Jinyoung in the movie Miss Granny:
In This Article
---
---