COMING SOON: Goblin, starring Gong Yoo, Kim Go Eun, Lee Dong Wook, Yoo In Na, and Yook Sung Jae
---
---
With its stellar cast, including Gong Yoo (Coffee Prince), Kim Go Eun (Cheese in the Trap), Lee Dong Wook (Bubblegum), Yoo In Na (One More Happy Ending), and Yook Sun Jae (School 2015), and high profile writer/director team, Kim Eun Sook and Lee Eung Bok, who were behind Descendants of the Sun, upcoming romantic drama Goblin is quickly becoming the most anticipated drama of 2016. We know you want it, so we're bringing it to you exclusively on DramaFever! Take a look at what's been revealed so far!
Synopsis
Gong Yoo (Coffee Prince), Kim Go Eun (Cheese in the Trap) and Lee Dong Wook (Blade Man, My Girl) star in a supernatural romance that proves love can find its way past anything, including death. Kim Shin (Gong Yoo) is an immortal "goblin," and has the rather honorable title of being the Protector of Souls. His roommate Wang Yeo (Lee Dong Wook) also happens to have the equally lofty, if thoroughly opposing, title of Angel of Death, and he acts as the storied grim reaper that claims souls. However, both these devilishly handsome angels have a problem: Wang Yeo has amnesia and Kim Shin wants to end his own (immortal) life. Unfortunately for goblins, the only way to defeat immortality is to marry a human bride. For that purpose, Kim Shin decides to win over Ji Eun Tak (Kim Go Eun) an optimistic high school girl who he thinks will be the priestess that ends his cursed existence. Once responsible for protecting souls and watching them pass, Kim Shin now tries to send his own to the afterlife. But when a slightly complicated method of suicide starts turning into true love, will our immortal goblin begin to regret his decision--where acting on that very love ultimately means the end of his life?
Adding to the drama are Kim Sun (One More Happy Ending star Yoo In Na), a sweet chicken shop owner who falls for the Angel of Death, and Yoo Duk Hwa (BtoB member and School 2015 actor Yook Sung Jae), a wealthy heir who happens to be Kim Shin's nephew with a penchant for rebellion.
Teasers
---
Script Reading
The first script reading for the drama took place on August 30, 2016 at the Nuri Dream Square in Sangamdong, Seoul, South Korea, with filming began in September 2016.
Stills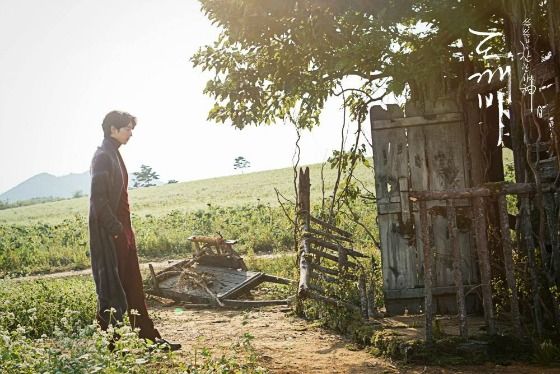 This romantic, supernatural tvN drama is being partly filmed in Quebec City, Canada and will be Gong Yoo's return to the small screen since his last drama four years ago, Big. Are you excited to see him back in action?
Goblin will be airing on December 2 following Ji Chang Wook and Yoona's The K2. Add it to your queue now!
In This Article
---
---