Dream High 2 Episode 1 Recap
---
---
[Cole Escola is a performer, raconteur, and co-creator (and co-star) of Logo's Jeffrey & Cole Casserole. He's only watched one kdrama before, Flower Boy Ramen Shop. We asked him to watch Dream High 2 and recap it for us as a kdrama semi-newbie.]
K-Pop meets "Fame" in this Korean musical series. Set in and around Kirin Arts High-School, the first episode of Dream High 2 starts by focusing on everyone's favorite subject matter: Child Labor Laws. On the day this episode takes place, a new law is going into effect that prohibits minors in the entertainment industry from performing after 10pm and requiring them to go to school at least 20 hours a week. This is a big controversy in the world of K-Pop because it means that the teen pop idols will now have to perform their concerts earlier than they've been used to and they have to be in school a lot more than they've been used to. This really goes against their cool, bad-ass image. At the top of the episode, we're briefly on the set of a movie featuring K-Pop star Lian, who is having difficulties crying when the script calls for it.
Shortly after that, we're backstage at a popular Korean concert TV show (think "American Bandstand" or if you're not 70, an episode of "American Idol" where a bunch of past winners come on to perform). Two popular singing groups are supposed to perform. One is a girl group called HershE, featuring Lian, Nana, and Ailee who we saw a little earlier in the episode on the set of a movie where the director criticized her for not being able to act. The other one is a boy group called Eden led by JB and Si-Woo and features a few other members who mostly just dance.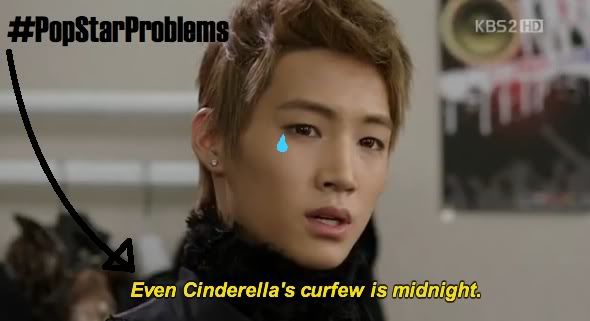 An eager, nerdy fan girl who attends Kirin Art School, our heroine Hae-Sung, sneaks backstage during the performances to try to meet her idols. When she meets JB she almost s#*ts her pants and tells him she loves him. He tells her he loves her back in order to sweet talk her into doing something for him. It turns out he wants her to lock his band's manager (and seemingly the owner of the K-Pop idol company), Kang-Chul, in a room and make sure he doesn't get out so that his group can go on stage and perform past 10pm. This plan works out, but one of the underage fellas in Eden ends up getting fired as a penalty for breaking the curfew, even though he didn't realize he was doing it. Meanwhile, Yoo-Jin, a less successful, but just as talented musician is performing on the street with his band and is forced to quit playing and singing because two police officers approach him and ask for his ID. If he's underage, he has to obey the new child performer curfew... and he is... so he has to stop. MAN! COPS ARE THE SAME EVERYWHERE! NOTHING BETTER TO DO! I'm only kidding (...or am I? ...Yes, I am). After the concert TV show, Yoo-Jin is trying to sneak back into the school dorms after curfew. He sees Hae-Sung who is also trying to sneak back into the dorms late at night and startles her so much that she makes a loud, disruptive noise coming back into the dorms which gets her in trouble because she should've been back hours ago. The next day at school, Hae-Sung is forced to polish teachers' shoes as her punishment. Next, we see Yoo-Jin waking up in his teacher, Jin-Man's room. Apparently he lives at the dorm, but kind of just sleeps wherever he feels like it. I can't tell if that's really badass, or just weird. Maybe weirdly badass? Anyway, his teacher is really upset because Yoo-Jin reset his alarm to suit himself, making Jin-Man late for his job.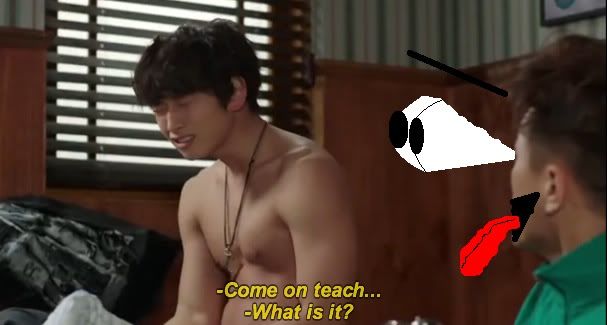 At school in singing class, Yoo-Jin stumbles in late. It turns out the students are required to turn in a song they have written by the end of the day and Yoo-Jin makes a bit of a living by selling songs he's written to the students to turn in as their own. His songs are THAT good, I guess.
Next, Lian (the most successful member of HershE) is practicing a sword fight scene for a movie she'll be filming. Her acting is terrible. She's interrupted by JB who makes fun of her acting abilities, then the two of them are interrupted by Ms. Hyung one of their managers/the second-in-command of the entertainment company they work for. She scolds JB for the trouble he caused the night before. She sends him to the directors office where we find out JB's blatant defiance actually cost ALL of the teen performers their jobs. The network, in order to protect itself from facing any more fines, decides not to use any of the K-Pop company's idols. The Director, Kang-Chul, sits JB down and asks him his reasons. JB changes the subject. It seems JB discovered (I think through his Eden bandmate, Si Woo) that one of Eden's songs was plagiarized, meaning someone else had actually written it. They haven't revealed it yet, but I have a feeling that some of Eden's songs might be coming from Yoo-Jin. We'll see if I'm right and if I am, you owe me a coffee. Anyhow, JB doesn't want to be performing plagiarized songs. He wants to take some time to write some on his own. He also wants a break from Si-Woo who, JB feels, is lacking in discipline and sort of shows up when he wants and does what he wants. Si-Woo overhears JB's conversation with the Director and gets angry with JB. Seems like this might mean war. After that, Si-Woo tells Lian the news about the agency taking a break and giving the idols an extended period of time off. Instead of being distraught over the fact that she won't be able to work Lian is overjoyed at the idea that she now has time off and can live a normal life again. Meanwhile, rocker-boy Yoo-Jin tries to re-join his street band, but they tell him he's no longer allowed to play with them since he's a high-schooler and there are too many restrictions on underage performers. He tries to lie to them but his principal, Jung-Wan, the same man we saw earlier making Hae-Sung polish his shoes, shows up on a scooter and warns him that he better get back to the dorms before 10pm. BUSTED! On top of the ridiculous scooter-riding gear, Jung-Wan is also wearing a uniform from his second job at a chicken shop. Seems like Korean teachers' salaries are comparable to American teachers' salaries.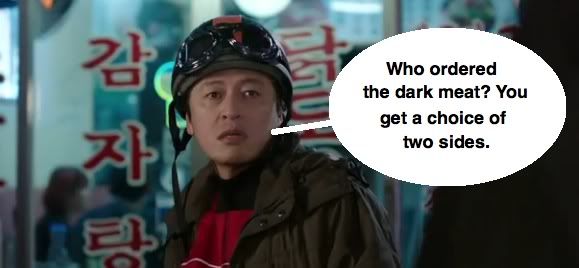 Back at the dorms a little bit later, Hae-Sung is performing some sort of "magic ritual" in order to please the spirits and ask them to help her win the next round of K-Pop idol. Her friend, the bubbly and not-so-bright Soon-Dong, has put her up to it. The ritual involves wearing some sort of belly dancer costume, dancing seductively, and burning the paper that JB signed for her earlier. As Jin-Woo is sneaking in after curfew, he smells the smoke coming from Hae-Sung's room and pulls the fire alarm.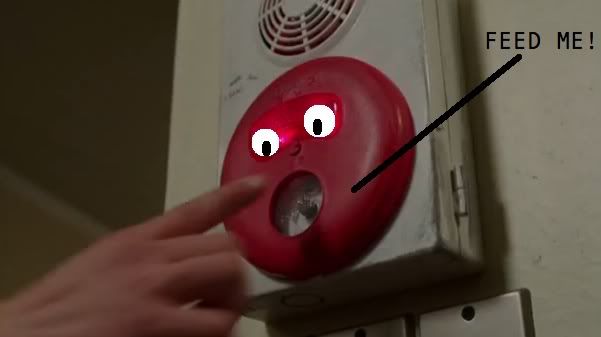 Jin-Man, the teacher that Yoo-Jin made late earlier, rushes out of the building with all of the dorm's inhabitants, then back in with buckets of water to put out the fire in Hae-Sung's room. She hears them coming and hurriedly tries to finish the ritual before everyone barges in. The autographed paper is seconds away from burning all the way when Jin-Man breaks into her room with lots of students in tow and hurls a bucket of water onto the fire... and also onto Hae-Sung. As you can imagine, she is humiliated. On top of that, she was unable to perform the last act of the ritual, which is to drop the burning paper into a bowl of water and then drink it. So she's worried she's upset the gods and ruined her chances at moving along in the Idol competition. If she doesn't make it this time, she's afraid her father will come to take her away from the school. Soon-Dong doesn't say much to relieve her (she's very superstitious and says the Gods are probably even more upset than they would've been if she hadn't tried the ritual at all), but a couple other students try to cheer her up and tell her they can help her win the competition. Then one of them plays her a song on his guitar. Awww!
The next day, Hae-Sung is in line to compete for the idol competition when they skip over her number. They inform her that they're no longer seeing minors since the new law went into effect. Hae-Sung bursts into the audition room and begs Ms. Hyung to let her audition, telling her she has an amazing voice. Ms. Hyung is not impressed. She remembers Hae-Sung from other auditions and tells her that her voice isn't that special, and that without authenticity of emotion behind her songs (which she doesn't have), she won't move any further. She says that she has no rhythm and that her tone is shaky. Hae-Sung is very hurt by these words and warns Ms. Hyung that she'll live to regret saying all those hurtful things to her. On her way out of the audition, Hae-Sung spies a poster advertising a competition for original songs. This sparks an idea in her head. "There must not be an age limit for THIS competition..." she says. Hmmmm. Do I smell a Jin-Woo/Hae-Sung collaboration? Or is that just the burning paper? In the next scene, we see Ms. Hyung talking to Kang-Chul about changing the law so that if a student goes to Kirin Arts School, they do not have to obey the rule of "20 hours of regular school a week." The school has been in decline in the last few years and has lost a lot of money and prestige. If Kirin was the only school that didn't have to enforce the 20-hours-a-week rule, more talent agencies would send its students there and the school might be able to make more money and become the great school it once was again. I'm not exactly sure how Kang-Chul has the power to change the law, but for the sake of enjoying this delightful show, I'm just going to accept it at face value and move on. Elsewhere, Hae-Sung is at dinner with her very religious father. He inquires about how auditions are going and Hae-Sung explains how she's been too busy with school work to really focus on auditioning. He gets very upset about this and tells her that it's time to put this foolishness away and go to Theology school. She then informs him that she's given up Christianity and has converted to Shamanism. This outrages her father and he tells her that he's taking her away RIGHT NOW. She tells him, "no" but he tells her that she doesn't have a choice. So she gets up from the dinner table at the restaurant, grabs her shoes and runs out of the restaurant, leaving her father behind. She walks back to school singing... terribly. She reflects on all the nasty things Ms. Hyung said to her and wonders if they're true. Then she takes a look at the poster she stole from the audition. The one advertising an original song competition. Hmmmmmm. In the next scene, Kang-Chul shows up to Kirin Arts School with JB, his biggest star. It seems he's gonna go for the idea of Kirin being an exception to the 20-hour-a-week rule after all. It also turns out that Kang-Chul is Jung-Wan's younger brother. GASP! He's not there to pay a brotherly visit, though, he's there to tell him that his company will be taking over his younger brother's school and that soon, the pop idols will be enrolling in droves. This means that Jung-Wan will no longer be the principal... so what will he be? Hmmmm. JB wanders around checking out the school trying to hide his identity from the student body, who recognize him anyway.
Hae-Sung begs Yoo-Jin to help her with the song she wrote for the idol competition. After a lot of pestering, he finally he lets her play it for him but still says no. He doesn't want to be contributing music to pop idol competitions. He wants to be a true artist, not like those idols who just lip-sync and take their clothes off. He tells Hae-Sung that her song is no good because she doesn't actually care about music, she just wants to be famous. JB overhears this happening and has a flashback to his audition for Kirin Art School. He's in a classroom holding a guitar and next to him, also auditioning with a guitar, is Yoo-Jin. Yoo-Jin explains that he's passionate about rock music, then plays a song that makes even jaded Jung-Wan's ears perk up. Then it's JB's turn. He explains that he wants to be a singing and dancing idol, but is still confident in his playing skills. He tries to play but can't really. He doesn't even know how to tune his guitar. He's terrible! I guess he moved on to become a big idol but still wants to be a legitimate artist as well. It's like when Gwyneth Paltrow wrote that cookbook. You know what I mean? No? Just keep reading.
We're then back to present-day. Yoo-Jin is still telling Hae-Sung how un-serious she is about music and informs her that her idol, JB, who she loves so much just performed a plagiarized song. Hae-Sung is then delighted and surprised when JB steps in. This kind of shuts Yoo-Jin up for a second. JB asks where Yoo-Jin heard that his song was plagiarized and tells Hae-Sung that he will help her with her song. He sits down right there at the computer and throws together something that sounds good. Hae-Sung is overjoyed while Yoo-Jin remarks that what he's come up with sucks. JB is annoyed and says to Yoo-Jin that it's easy to sit back and criticize and that if he thinks he can come up with a better song, then he should. He sits at the computer and deletes the song that JB made for Hae-Sung. This causes Hae-Sung a lot of grief. HOW COULD HE DELETE SUCH A GIFT FROM HER PRECIOUS HERO!? Yoo-Jin makes fun of JB some more, mocking his hoards of drooling girl-fans and telling JB he'd be nothing without them and his music sucks. JB then asks Yoo-Jin, "if you're so good, why am I the famous one and you're nothing?" (I'm paraphrasing, guys). Yoo-Jin is seconds away from punching JB in the face when Hae-Sung trips him before he can get to it. The episode ends.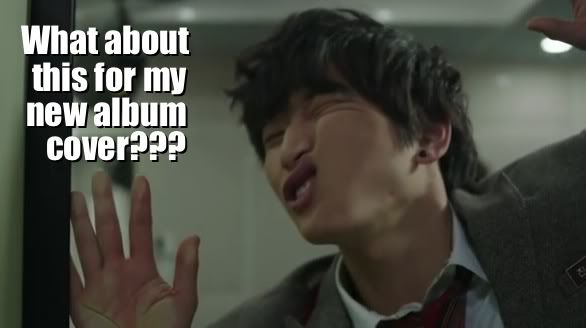 Click here for more recaps!
---
---