Flower Boy Ramen Shop Ep. 14 Recap
---
---
Things is real serious at the top of episode 14. President Cha pays Kang-Hyuk a visit and asks if he knew all along that his mother was Cha's former wife and also Chi-Soo's mother. Kang-Hyuk admits he did know. Then Kang-Hyuk asks if President Cha knew when he married his mother that she already had a son and a husband. President Cha admits he did know, but that he'd rather have half of her than none of her, and besides, that's how he got his beloved son.
Upon hearing this conversation, Eun-Bi springs from Chi-Soo's arms and interrupts the conversation. Now everyone in the house is awake and finally made aware of the situation: CHI-SOO AND KANG-HYUK ARE HALF-BROTHERS AND THEY BOTH LIKE EUN-BI!!! Ba-Ool and Hyun-Woo sit slumber-party style with a very confused and shaken-up Eun-Bi. President Cha sits with Chi-Soo at the kitchen table still, across from Kang-Hyuk. President Cha asks why Kang-Hyuk is there, assuming it might be something to do with him or his son or his corporation. Kang-Hyuk assures him he is there to protect Eun-Bi and the ramen shop only. He understands, but then he asks his son, Chi-Soo, what he was doing there, to which he answers, "dating." President Cha finds this unacceptable and immediately pulls Chi-Soo out and takes him home. How embarrassing! It must be a blow to your ego to be cock-blocked by your father.
Eun-Bi asks Kang-Hyuk why he kept this secret hidden from her. He tells her that he wanted her to see him as a man, not just Chi-Soo's older brother. Damn. This is a heavy episode, y'all, and it's just starting.
President Cha tells Chi-Soo that he cannot date Eun-Bi. "Have you learned nothing from my life!" he exclaims (I'm paraphrasing a bit). He assures him that caviar-ramen romances never work out and asks if he thinks Eun-Bi has the same adoring feelings for him. Chi-Soo pauses, thinking about it for a minute. Perhaps she doesn't now, but he knows she will in the future.
Next we see Chi-Soo arriving at the ramen shop with suitcases. He has run away from home to live at the ramen shop with Eun-Bi and the rest of 'em. Eun-Bi objects, of course, stating that she hasn't even made up her mind who she wants. Chi-Soo argues that he needs to be there so that the playing field is even between the two brothers. Kang-Hyuk decides it's fair (after all, President Cha probably won't take him back as long as he keeps dating Eun-Bi).
At the ramen shop, Kang-Hyuk and Chi-Soo fight like... well brothers. They argue over who's immature and who's feet smell. Eun-Bi is caught in the middle, but then an even bigger problem arises. In an attempt to get his son back, President Cha has opened a new outdoor ramen shop right outside the school that seems to be attracting, nee stealing, all of Flower Boy Ramen Shop's customers. In addition to this, he has Chi-Soo's precious car, named Louis the 16th, towed and taken away. He is NOT pleased. Men and their cars! Am I right, ladies! But that's not the end of it. His phone has been turned off, his credit cards cancelled, and all his bank accounts blocked off. Gosh. I wonder what it's like to be broke. I wish I knew... but oh well. Maybe someday. Meanwhile, Kang-Hyuk meets again with President Cha. President Cha tells him that he understands it must be hard to have Chi-Soo living with him while competing with him romantically. He tells Kang-Hyuk that they both know someone like Chi-Soo shouldn't end up with Eun-Bi, so he's going to do everything he can to get Chi-Soo back, and hopes that Kang-Hyuk will help him do the same. But if he tries to play the pure, protective older brother, President Cha will make sure Flower Boy Ramen Shop goes out of business. Uh oh!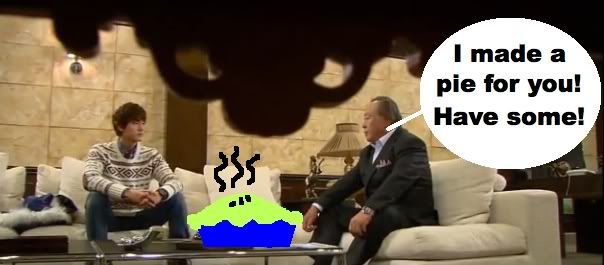 On her own, Eun-Bi makes the connection between the redevelopment plans and Chi-Soo being in love with her. She realizes that his father is behind all of it. She runs into Kang-Hyuk on her way home from buying apples. He warms her hand with his and she thanks him. Kang-Hyuk asks why she gets hot and bothered when Chi-Soo touches her, but when it's he who touches her, she just says "thank you." Eun-Bi doesn't seem to know the answer to this... although I think it's pretty obvious. Back at the ramen shop, Chi-Soo refuses to go #2 without a bidet. There's a lot of poop talk on this show! And I don't mean that as a euphemism for anything, they literally talk about poop a lot. Kang-Hyuk is thinking about President Cha's ultimatum (cut Chi-Soo off from Eun-Bi and the shop, or lose the shop to redevelopment) when he runs into Chi-Soo who is sitting alone outside the shop. Chi-Soo is sitting up, waiting for Eun-Bi to return. Kang-Hyuk reluctantly tells him she's at the batting cages outside the school. Awww, he's a good husband AND a good brother! What ISN'T he good at? Wait, don't tell me, I don't wanna know! Meanwhile, Dong-Joo pulls away from Coach who is trying to carry on their romance. Remember! She's getting married soon! To someone else! Surely, she'll break it off and run into Coach's arms, right? Right! Let's just wait it out. Chi-Soo finds Eun-Bi at the batting cage. He pulls her out and asks how can she even be thinking about baseball at a time like this. Doesn't she know that he's given up his home, his car, his credit cards, and his bank account all to be with her?! She points out to him that if they are to keep dating, he'll probably have to give up more than that. What about times when they have to eat ramen three meals a day because they can't even afford rice? Will he still want to be with her then? She tells him he has to seriously think about giving all those things up. If he IS willing to give those things up, I'll take them. Me and Hyun-Woo could use a few luxuries to start off our life together.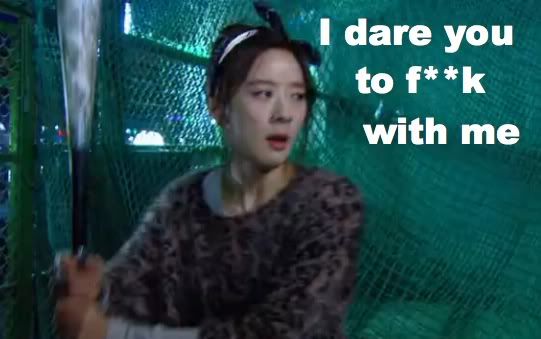 Then, in a very odd scene that ends up in a church, So-Yi begs God for forgiveness for not being faithful to Ba-Ool, and decides she should break up with him. Ba-Ool kneels next to her and, crying, begs God for forgiveness for ignoring So-Yi's texts and calls and not appreciating just how precious So-Yi is to him. They make up and finally kiss. Wait, why am I crying too? Am I crying? I can't tell. I need Hyun-Woo to hold me!!!
Back at the ramen shop, Eun-Bi has fainted in the bathroom. A doctor comes and recommends that she get lots of rest. Hyun-Woo takes this to heart and orders Chi-Soo and Kang-Hyuk to both STAY OUT OF EUN-BI'S ROOM! The next thing we see is Chi-Soo and Kang-Hyuk on either side of Eun-Bi who's sleeping. The two men ask eachother why they like Eun-Bi. Neither one really knows the answer, but they appreciate that she's healthy and strong. Then they sort of argue over who was less fortunate. Was it Chi-Soo who had a mother that cried all the time over the family she left? Or was it Kang-Hyuk who grew up without a mother at all, except for the very end when she returned to him very sick, preparing to die? Eun-Bi awakes and begs Hyun-Woo to pull these two men off of her. The next morning, Kang-Hyuk hears Eun-Bi utter Chi-Soo's name in her sleep. Ouch! He heads down to the shop to start work for the day. Chi-Soo isn't far behind him. Then Chi-Soo stumbles upon the plans that his father gave to Kang-Hyuk earlier, mapping the re-development project that would close the ramen shop. Chi-Soo asks Kang-Hyuk what the hell these plans are, to which Kang-Hyuk answers, "The shop traded, for you." End of episode.
Click here for more recaps!
---
---