Flower Boy Ramen Shop Ep. 15 Recap
---
---
Episode 15 starts with a dream sequence wherein Eun-Bi is a princess running from some evil soldiers. She runs to a palace where her prince, Chi-Soo, is waiting for her up above. He tells her to come up to her, but because she can't make it up all the stairs on her own, she asks Prince Chi-Soo to come and help her.
He tells her he can't because if he runs, he wrinkles his clothes. All this while, Danny Elfman's music for Edward Scissorhands plays in the background. I wonder if they had to get the rights to it, or if anything goes in Korea. Then the bad guys catch Eun-Bi and drag her away. I guess this dream is supposed to represent how Chi-Soo wants Eun-Bi, but isn't really willing to go outside of his superficial comfort zone. Eun-Bi wakes up abruptly and in terror.
At a cafe, Chi-Soo and Kang-Hyuk look over President Cha's plans for his takeover of the Ramen Shop. Kang-Hyuk tells Chi-Soo that it's the scenario that he imagines: If Chi-Soo doesn't give up Eun-Bi, he's going to destroy the shop. Chi-Soo tells Kang-Hyuk that he'll take care of it, not to worry, and that he should stick to what he's good at: chopping onions. DISS! President Cha has Eun-Bi back to his mansion to meet with him. He tells her that her doctor told him she was sick. I guess Dr./patient confidentiality laws in Korea are a little "loose." He tells Eun-Bi that to alleviate some of her suffering, he offers her a position at his company. If she takes it, she has to give up Chi-Soo, but it's a very stable, well-paying job. Not surprisingly, she tells him, "no." Then she tells him about her dream, and how the thought of being without Chi-Soo terrified her... so she wants to date him, face on. For real! Then Eun-Bi tells Kang-Hyuk how she feels. She says that when he showed her some affection, she wanted to grab it and hold on because she's never had that kind of attention before. But the truth is, she's really mad for Chi-Soo. Chi-Soo makes her boil over. Kang-Hyuk asks what she's going to do if she gets burned. She doesn't know. Next we see Chi-Soo telling his father not to move forward with the redevelopment project. His father totally flips out. He even throws a teacup, so you know this sh*t is serious! He tells Chi-Soo he's behaving like a brat, that he's ruining the "Cha" name, and to watch this situation with his own eyes and see what all this brings him. Chi-Soo tries to get on public transportation, but can't quite figure out how it works, so he has to call Kang-Hyuk to come help him. Men are so sexy when they're helpless. On the bus back to the shop Kang-Hyuk tells Chi-Soo that the redevelopment will totally wipe out and clean everything and the ramen shop will be just a memory. Chi-Soo seems upset by this, like he doesn't want that to happen but isn't sure what he can do about it without leaving Eun-Bi and going back to his father. Kang-Hyuk tells him not to tell Eun-Bi because he doesn't want her to end up like their mother. I don't exactly know how that makes sense, like I don't understand how Eun-Bi would get cancer from knowing the shop is in danger, but I'm just gonna go with it because the guys are cute.
Later, the gang who has now become more like a dysfunctional family is decorating a Christmas tree. Ba-Ool and Hyun-Woo both talk about how miserable and destitute they would be without the ramen shop. This shakes Chi-Soo to the core. He's obviously torn between leaving Eun-Bi and saving the shop, or fighting to stay with the girl he loves. Oh no! He has feelings! Gross!
Chi-Soo gets real contemplative. He considers the pros and cons of staying at the shop versus going back to his father. He tries to think of a way to stay at the shop without it being destroyed by the redevelopment, but he cannot. Alone and depressed, Chi-Soo sits at the bus station. Sad music plays. Soon So-Yi shows up. Apparently Chi-Soo didn't have the bus fare so he had to call her. If I had a nickel for every time I called my ex to come pick me up... let's just say I'd have enough for the bus. Chi-Soo asks So-Yi if she would've dated him if he had no money. She laughs. Obviously the answer is no. She asks him if he's afraid Eun-Bi wouldn't like him if he had nothing. He answers that he's afraid she WOULD like him even with nothing. Deep, Chi-Soo, deep. So he's got feelings AND he's considerate? Eun-Bi sees Chi-Soo with So-Yi and thinks maybe he's getting bored of her. She tells him to meet her at the gym later. She plans to seduce him with her sweaty volleyball playing. I wonder if that would work for me to try on Hyun-Woo. If only I had the chance, but alas... Anyway, a big group of President Cha's businessmen and goons show up at the ramen shop to find out what Chi-Soo's decision is. Stay and have the shop demolished? Or return peacefully, keeping the shop intact? He tells them to go inside and have ramen while he goes to meet Eun-Bi at the gym.
At the gym, Eun-Bi demonstrates how good she is at playing volleyball and explains that she got that way after going through years of ugly practice. She says that it may take years of hard practice for them to fit together like her and the volleyball, but she's willing to put in the time. Chi-Soo pulls away from her and tells her he's come to end it. Aww! He's just trying to save her and the shop! He's got feelings, consideration, and makes big sacrifices? I think he passes the test. Just let Eun-Bi keep the shop AND her man, please! But since there's still one episode left, I have a feeling that's not going to happen. Eun-Bi chases after him and asks him where this sudden change of heart has come from. He lies and tells her that he's just not willing to give up his lifestyle and ride the bus forever just to be with her. Poor Eun-Bi! Why didn't he just tell her the truth? I know he was trying to be gallant, but now she's going to spend the rest of her days thinking she was traded for the luxury of a car. Is that so gallant? Whatever! I can't think about it, I need Hyun-Woo to cradle me ASAP.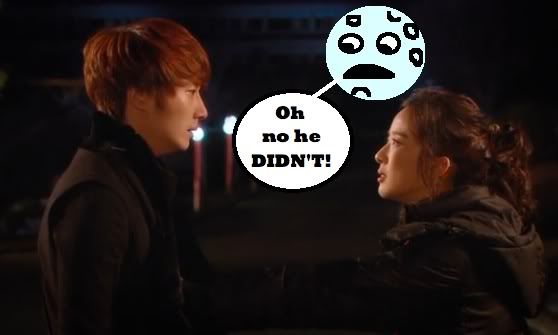 Chi-Soo returns to the shop to go with his father's men. Kang-Hyuk tells him that he doesn't need to make this sacrifice, that he's not alone. Chi-Soo hides his real feelings (maybe even from himself) and tells him that he's doing it because he doesn't want to work at the shop and become a piece of crap. He's Chi-Soo! Eun-Bi and Dong-Joo sit at a restaurant drinking like fish, eating like pigs, and lying like dogs. Dong-Joo asks Eun-Bi if anything happened to her today to which she answers, "no." Dong-Joo seems upset too, but also says that nothing happened to her today either.
Finally back in his father's mansion, Chi-Soo and President Cha silently agree to a lie that nothing has happened and everything is the way it used to be. It seems a lot of the problems these characters have stem from dishonesty in one form or another. But I guess without the lies, there wouldn't be a show to watch! Oh what a vicious, wonderful cycle! Eun-Bi stumbles home, into the arms of Kang-Hyuk. She drunkenly (VERY drunkenly) re-tells the story of how Chi-Soo broke it off with her and ends up crying on the ground over the fact that Chi-Soo said nothing ever happened in his heart.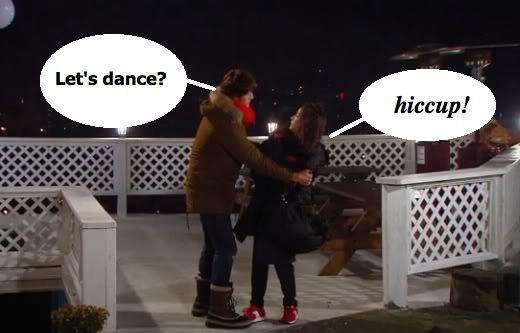 Chi-Soo, alone in his bed, cries too, trying to convince himself that nothing happened in his heart. I wish I had something funny to say here, but I'm trying not to cry.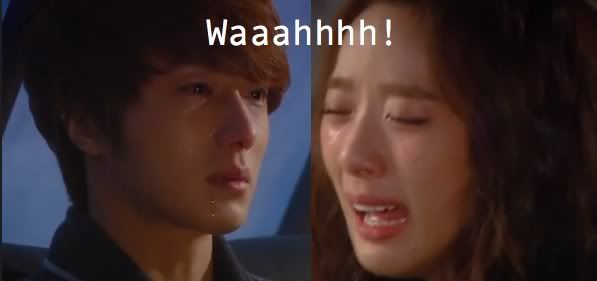 Click here for more recaps!
---
---