Let's Fight Ghost: Second Match
---
---
I'm back to recap episode 2 of Let's Fight Ghost! I hope you like this format I'm trying this time and the gifs I'm making for it. That said, shall we go back to what happened on the latest episode of this new series that is enchanting us. Or should I say haunting us?
ROUND 1!
It starts with Bong Pal heading home and recalling how hard his infancy was because of his eyes that could see ghosts, scaring him when he was just a kid, and eventually making him isolate himself for fear to run into ghosts. Then we catch up where we were left with our Hyun Jin making a move on Bong Pal. But before the lips make contact, he treats her like he treats every ghost: with violence. He pulls her hair and tells her clearly he's not up to her games and he doesn't even feel sorry for her. But Hyun Jin, determined to get more memories, follows him to his place, trying all her charms on him.
I don't know about you but they are working on me… or perhaps it's because I'm totally biased for Kim So Hyun.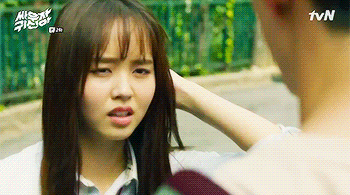 However, her aegyo doesn't work on Bong Pal and Hyun Jin ends up even following him to university. There, the two members of GhostNet have found out who he is and the fact he can see ghosts so they have decided to recruit him for sure. But their attempt is as fruitless as ever.
ROUND 2!
Bong Pal is in a very popular class… oh well, the professor that gives the lesson is popular. Joo Hye Sung (played by Kwon Yool) is a vet who also is a professor. In this class there's also the girl Bong Pal has a crush on. Upon noticing this, Hyun Jin decides to help our male lead to spend some time with Im Seo Yeon. He doesn't appreciate it, though.
Hye Sung looks too nice and if watching thriller K-dramas has taught me anything that is to never trust guys that are too perfect. He looks too kind, also loving animals and with all the girl swooning after him. Suspicious.
Anyhow, Hyun Jin follows Bong Pal and if her charms won't work, then she need to bend his spirit so when he's working out, she makes sure to bug him until he snaps. No matter what, she's out of his reach and I just keep finding their dynamic more and more endearing.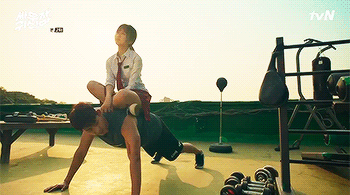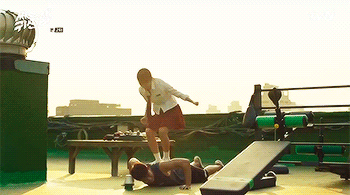 So, there's a new ghost and Monk Myung Chul has been called to exorcise the house. I'm not sure if he really senses the ghost at first but then when this gets a hold of the monk, dragging him inside, with screams everywhere, I think he actually did. This ghost is a very nasty one.
ROUND 3
Back to Hye Sung, he has a vet clinic and it looks nice and all, he's caring about the dog. But when he's changing we can see a huge and horrid scar on his back and the look in his eyes change. Why do I feel he has something to do with Hyun Jin's death? Like I have this bad hunch in my guts. It also seems Seo Yeo and him have some chemistry and they'll be involved somehow beyond professor/student dynamics.
Talking about Hyun Jin, she still clings on to Bong Pal who does his utmost best to ignore her, referring to her as a stray cat when talking to Monk Myug Chul. Later, when Bong Pal's asleep she sees her chance to get the kiss and prove her theory, but Myung Chul makes this noise that startles her and awakes Bong Pal. This doesn't take nicely what she's doing and ends up chasing her around the apartment.
The next day our GhostNet friends catch Bong Pal talking to the thin air, which means he is talking to a ghost. After he's called to perform an exorcism, they decide to follow him to get new footage for their website.
Bong Pal ends at the same place where Monk Myung Chul failed and he goes inside while Hyun Jin walks around. She only runs back to him when screams are heard. Bong Pal was checking the closet but finds nothing, yet when he turns around, a hand grabs him. Instead of attacking him, however, this ghost warns him to run. And then the real nasty ghost appears, vicious and ruthless.
The fight begins while the GhostNet friends record and scream in horror. Hyun Jin decides to step in after seeing how Bong Pal is being beaten up so now they fight together, working great. What a great team! Furthermore, she can see once again how the ghost died, the stabbing wound sparkling red on his side, where Bong Pal needs to hit to send him away. He does and with that, the other ghost who warned him is free to leave as well, finally in peace.
These two are really a good team.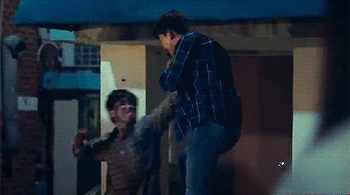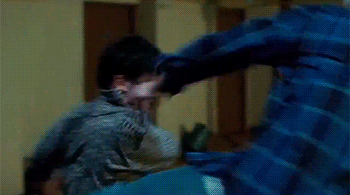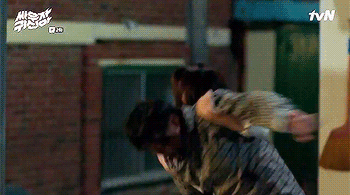 After this fight, the two finally seem to reach a truce. Bong Pal asks her how she can know the weakness of the ghosts but she doesn't share her secret. She once again explains, or tries to explain how she, for the first time, saw some of her memories when they kissed. Granted, she can't really say the word and just rambles, which amuses Bong Pal. Our boy, wearing a fond smile, steps forward and surprises her with a kiss.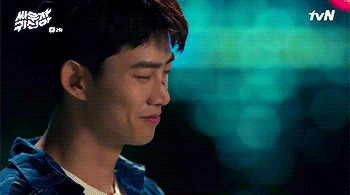 KNOCK OUT!
AIGO! I wasn't expecting a second kiss so fast! It was a peck but the angle was good and it looked nice, cute and romantic. I wonder what memories this peck will bring to our Hyun Jin.
Well, so far I'm loving this series. It's amusing and cute, with a bit of thrill and mystery. Great combination. And let's not forget I love the cast. What about you? Are you hooked on the story already?
Remember to add it to your queue for notifications of new episodes!
---
The selection of scenes and gifs were made by Bel, just a regular fangirl who spends too much time watching K-dramas. If you want to make use of the gifs, please give credit.
In This Article
---
---