Let's Fight Ghost: First Match
---
---
Hello everyone! This week a new series started airing and I already love it. Not only because I'm a sucker for ghost stories and because I stan 2PM hardcore, but also because this is a tvN K-drama and it's funny and a bit crazy. Let's Fight Ghost airs on Mondays and Tuesdays and I'll be recapping it every week following a fighting style, with gifs. So, are you curious as how I'm going to do this? Take a look!
First Episode
ROUND 1!
The story begins introducing the main character, Park Bong Pal (played by Ok Taec Yeon) who can see ghosts, but not only that, he can actually fight them. The opening scene makes us think he's running after a thief when in fact he's after a ghost. This is how he exorcises, getting paid 1M won for each ghost he beats up till they cross over. Or fade. Whatever happens first. However, our dear Bong Pal doesn't go for big and scary ghosts, just for those that are easy to fight. His goal is save 100M won so there's still a long way to go. The first gif-set I made shows us part of this introduction where a ghost tries to scare him and he just slaps her. Oh yeah, it's important to point out he doesn't make distinction in gender as they are all just ghosts for him. "I didn't hit a girl, I hit a ghost."
Our Bong Pal isn't very social, due to the fact he sees and fights ghosts, isolating himself from the rest of his classmates and such. He lives alone, his mother died and he does not keep in touch with his father, or just shuts him out. The only "friendly" person in his life is a monk who used to be very popular and successful back in the day. But the glory days are gone and he ends up crashing at Bong Pal's most of the time. Monk Myung Chul (played by Kim Sang Ho) is always warning Bong Pal to stay away from ghosts, although we still don't know why and why he ended up in such miserable state.
ROUND 2!
Choi Chung Sang and Kim In Rang are students in the same university as Bong Pal who have a club dedicated to ghosts, following and reporting: GhostNet. They are desperately trying to recruit new members. Obviously, Bong Pal isn't interested and rejects them when they try to persuade him. In their desperation, they go to a all girls high school with rumours of many sights, just to boost their popularity.
It happens that Bong Pal is contacted by someone to go to this very school to get rid of a high school ghost and with a promise of 10M won, there's no way he's not going. In this school, however, he meets another high schooler, a young girl, Kim Hyun Jin (played by Kim So Hyun). They don't start with the right foot and when Bong Pal throws a punch at her, she fights back. It's most amusing because she kicks his ass in such spectacular way.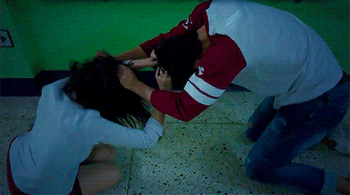 I actually already love them, finding this first meeting too funny. Anyhow, Bong Pal is defeated and leaves with his tail between the legs, and a bite on his forehead. I can't get over that.
Hyun Jin meets a ghost friend who looks very different from her, pale and well, ghostly, who clings on to a handsome young man, hoping he'll die. Actually, all ghosts look very different from Hyun Jin which makes me think she's not as… dead as she thinks. She looks no different from a person though she can go through walls and disappear to show up somewhere else. Regardless, we find out here that she died five years ago and remembers nothing of it. Where she died, how, why or any memories of her life. She's actually going through schools trying to find her picture, all she has is her name because it's on the name tag of her uniform.
Monk Myung Chul insists Bong Pal shouldn't exorcise or get involved with ghosts but when these follow him, it's just too hard so our young lead asks for guidance to protect himself. They go to a abandoned house and at first the monk acts as if he doesn't see the ghost next to him but the moment Bong Pal is gone, he hits the ghost right on the face, the rice actually kind of burning the flesh. It's as if the monk knew that all the time. Hmm… there's something there about him that we need to know.
ROUND 3!
After the failed attempt at the school, the two members of GhostNet go again to the school, determined to show a ghost. Bong Pal also goes to defeat Hyun Jin this time but the fight doesn't go much different from the first, except this time they end up rolling down the stairs and HOLY COW! Accidental kiss on the first episode! Hyun Jin is struck with fragmented memories of her death.
The awkwardness after the kiss doesn't last much because then a real mean and creepy ghost attacks the other two guys there who run for their lives. Hyun Jin hides and Bong Pal also runs, but the ghost gets a hold of him. Luckily, he can get free but notices how this ghost (a pervert teacher who died in the school) is after Hyun Jin and he can't just walk away so it's time to fight.
He goes after the ghost and although it looks all cool at first, it doesn't go well. Ultimately, Hyun Jin who can spot the exact weak point of the ghost (the wound that caused their death) fights the ghost as well and between the two they can get rid of the pervert former teacher.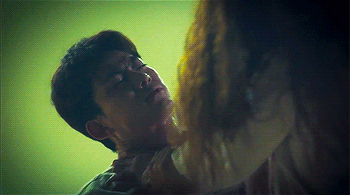 But they don't call it a truce after this victory. Actually, they keep bickering. And it's worse for Bong Pal who gets caught by the police and ends up in the police station. Poor boy. On the other hand, Hyun Jin keeps musing how she remembered that and when talking to her friend about it, without saying it was a kiss, this tells her to "bump again with the thing," which means kissing Bong Pal once more, hoping that will bring memories again.
This is how she ends up tracking Bong Pal to his university until she gets his address. When Bong Pal is heading back home she is there, waiting for him. Hyun Jin informs him that she's there only to confirm something and that is how she ends up jumping (more like flying) to him, clearly going for a kiss!
KNOCK OUT!
If you haven't watched the episode yet or the second, which is out already and I'll bring the recap and gifs soon, then what are you waiting for? Add it to your queue to receive notifications!
---
The selection of scenes and gifs were made by Bel, just a regular fangirl who spends too much time watching K-dramas. If you want to make use of the gifs, please give credit.
In This Article
---
---