Mass Wedding Ceremony Weds Thousands in Gapyeong
---
---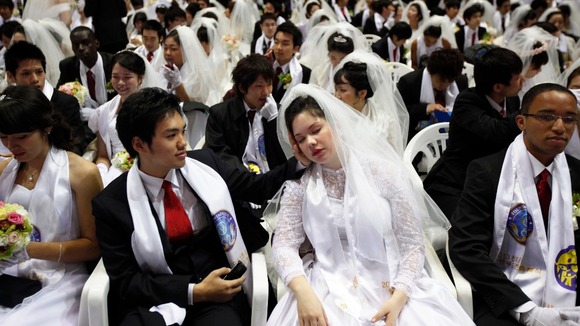 Mass weddings are not a new thing for the Unification Church in South Korea. They have been a signature feature of the church founded by the late Reverend Sun Myung Moon. And on February 17th, 3,500 couples tied the knot in the mass ceremony. The mass weddings began in the 60's and initially started with a few dozen couples, but they've now grown into a massive event. Thirty thousand couples were married in Washington in 1997. Two years later around 21,000 filled the Olympic Stadium in Seoul.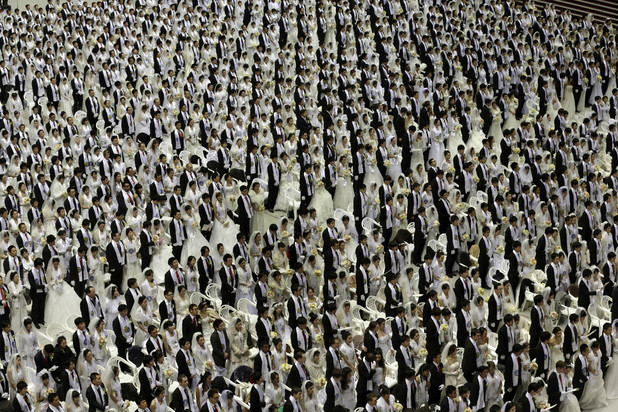 Most of the matches were personally made by the late Sun Myung Moon, who preached that romance led to mismatched couples, dysfunctional societies and sexual promiscuity. His preference for cross-cultural, international marriages, meaning that they husband and wife often do not share a common language. Those who choose to be matched by the church must confirm under oath that they are virgins.
According to the church, more than 20,000 people were expected to participate this year, including 1,000 couples getting married for the first time, 2,500 previously married couples, and 13,000 guests. Some of the couples had met just days and hours before the ceremony took place. The ceremony signifies the transcending of race and religion by creating God-centered families which is also known for arranged matches. The late founder's widow, Hak Ja Han, presided the event. What do you think of this practice? Could you marry someone you'd only just met, who may not even speak your language?
(Source: www.heraldsun.com.au)
---
---