Meet Park Si Yeon, Ji Soo, and Kim Tae Hoon's complex Fantastic characters
---
---
We've already seen the character posters for Fantastic's leads Joo Sang Wook (Good Doctor, Birth of a Beauty) and Kim Hyun Joo (Boys Over Flowers, Cruel Palace), and now it's time to take a closer look at the supporting cast! Park Si Yeon (Greatest Marriage), Kim Tae Hoon (One More Happy Ending), and Ji Soo (Scarlet Heart: Ryeo) will play vital roles in this bittersweet romance about living life for today. Take a look!
In Fantastic, a talented drama writer (Kim Hyun Joo) and a popular, yet untalented, actor (Joo Sang Wook) bump heads and start to fall in love, but a twist of fate may not let them have a happy ending. Can they be happy living for today and give romance a shot despite the heart-wrenching sorrow of terminal illness?
The drama also includes supporting cast members Park Si Yeon, Ji Soo, and Kim Tae Hoon.
Park Si Yeon will be playing Baek Seol, the wife of a man from a prominent political family. At first she is "cosplaying as a good wife and mother," but she can only put on a show for so long. She was once a hot-headed bad girl, but now she must hide her true self in order to play the part of a calm and modest politician's wife. She eventually finds true love and friendship, experiencing an awakening to what life has to offer. Her poster says, "I thought life was about holding back and enduring."
Ji Soo plays a smart, good looking young lawyer who is innocent when it comes to love. He will be in a noona romance with Park Si Yeon, and his poster reads, "Noona-sshi, what does age matter?"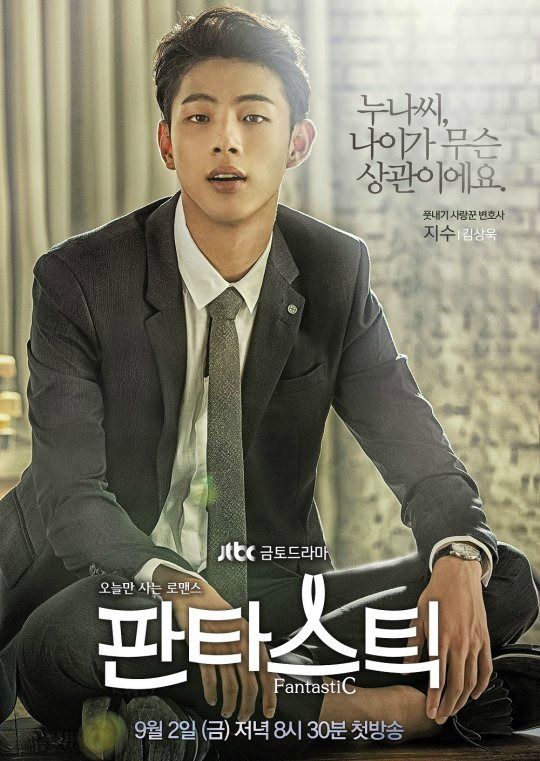 Kim Tae Hoon plays an eccentric "fourth-dimension" doctor named Hong Joon Ki, who is treating the female lead's terminal illness. He survived cancer, himself, and is now described as a very positive person who is the perfect example of "well-dying," or living life to the fullest in the face of death. His poster says, "Life? We're all terminal patients anyway." His warm character will be in a "special love triangle" with the leads.
It sounds like this drama will offer a deep plot and complex characters. Are you excited to see this cast in action?
Here's one of the funny trailers based on the touching theme of living life for today:
Fantastic is premiering on DramaFever on September 2 following Age of Youth. Add it to your queue now!
(Source: via)
In This Article
---
---