PHOTOS: Meet the Characters of Nail Shop Paris
---
---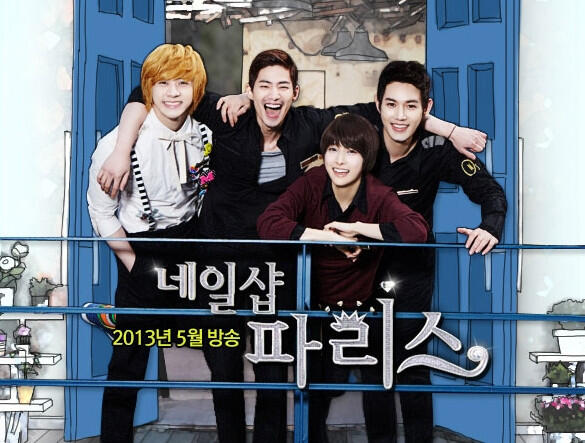 We had previously posted that Thunder of MBLAQ and Gyuri from KARA had signed on to act in upcoming drama Nail Shop Paris. While it was exciting news that we would have a flower boy nail shop drama (the cast includes Song Jae Rim and Jeon Ji Hoo), now we have even more exciting news—Nail Shop Paris will be coming to DramaFever!
Nail Shop Paris is a drama that takes place in the nail salon, Paris. The shop has a "flower boy only policy," so when blogger Hong Yeo Joo (Gyuri) decides to work as an nail artist for Paris, she turns to her best friend for help.
Introducing the characters of Nail Shop (or Flower Boy Nail Shop, as I like to call it):
HONG YEO JOO
Since it's ladies first, I'll start off with Gyuri's character Hong Yeo Joo. For those of you who were curious to see what she'd look like as a boy, here's the result:
Hong Yeo Joo is the online blogger who pretends to be a boy so that she can work at the male-only nail shop, and you can see her being a good student of Ji Hoo's character:
JIN
Next up we have Thunder from MBLAQ! He is the youngest member of the flower boy trio. His character Jin is the lead, and he's loved by everyone for his aegyo. Jin is also very sociable and cheerful, just the kind of person you'd want to get your nails done by.
However, behind Jin's cheerful personality lies a past of hardship and struggle. The maknae (youngest) grew up without a father and was raised by his mother who works as a medium. His experiences molded him to become a good listener and to give good advice to people. Additionally, he inherited some of his mother's supernatural powers which he uses to help his customers. Although there are some mistakes to be made, surely.
Jin and Yeo Joo become good friends because they are close in age. When Jin finds out Yeo Joo's roommate works for a TV station, he bothers Yeo Joo to get closer to Jisoo, and they eventually become a couple.
Here's Jin showing his aegyo!
ALEX
Then there's Alex, played by Jeon Ji Hoo, the eldest flower boy nail artist in Paris. The good looking, sweet guy takes on the role of teaching Yeo Joo when she joins the nail salon. Alex has a peaceful nature but constantly finds himself in conflict with fellow flower boy Kay. The two have a very close and deep friendship (expect bromance here).
Charming and handsome, Alex checks himself out in a mirror:
KAY
Introducing the third flower boy, Jaerim plays the role of Kay. Kay is the tough guy of the trio. The customers know him as the Ice Prince because of his cold and serious personality:
JISOO
Then we have Han Soo Young who plays the role of Jisoo, Gyuri's best friend and Thunder's girlfriend:
GEUM MI RYEO
And since every nail shop needs a madam, Kim Chae Yeon plays the owner of the Nail Shop Paris, the sophisticated Geum Mi Ryeo. The mysterious owner is a stylish and knowledgeable lady in her late 30s. She mostly keeps to herself in the office and works behind the scenes to solve problems in the nail shop: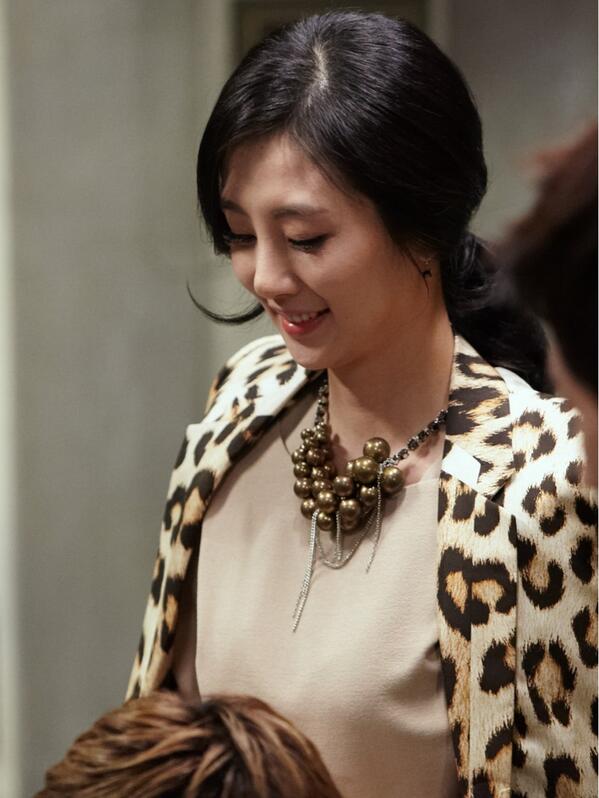 AN SO YOUNG
And last but not least, we have An So Young playing Thunder's mother, the shaman lady:
We can't wait for this drama! Will you be watching Nail Shop Paris? You can sign up for episode alerts here!
---
---