Once Upon a Recap: Cinderella and the Four Knights (episode 2)
---
---
Episode 2 of Cinderella and the Four Knights came and we dropped everything to watch it, didn't we? I know I did. I'm already so hooked, and this episode shows us some bits as to why the two eldest Kang cousins act the way they do and how our Cinderella will get involved and tangled up in their lives. Ready to see what happened to every main character? Then let the story begin...
Episode 2
Once upon a time, Cinderella Ha Won didn't have time to meet the prince, or that she thought. In her need to get back her mother's ashes, she's taken up Hyun Min's offer to be his date (and fake fiancée) for three hours. Obviously, things don't go as planned, when Ha Won realises she is being used to ruin Grandfather's wedding, she apologises and makes Hyun Min apologise too.
Angry, disappointed and tired, Cinderella leaves the ball but Ha Won wouldn't be Cinderella unless she lost a shoe, right? In this occasion she actually throws it at Hyun Min! I can't say how much I loved that. But even if Ha Won does not want to deal with any of the Kang cousins, media is powerful and find out about her. Naming her National Lottery Girl, they start following her to get some information. That she is somehow related with Kang Hyun Min makes her stepsister furious and green of envy, kicking her out of the house.
It doesn't end up there, the misfortune continues when Ha Won's father comes home and she finds out he got the ashes that she paid for. She's angry but the father takes the stepmother's side, who when Ha Won's father is home pretends to be the loving and caring type. In their confrontation, Ha Won's father reveals the truth, that Ha Won is actually daughter of another man so technically, they are not related.
Ha Won walks out on her own, recalling happy times when it was just the three of them, when her mother was alive. Still sad, she can smile.
Grandfather offered her the job to turn out his grandchildren into "decent human beings," knowing she is the only one who can do it but she refuses at first. Ha Won doesn't feel capable and neither wants she to do it, but after having nowhere to go and realising she has no family, she has no other option but accepting the offer Grandfather gave her.
Once upon Kang Ji Woon
After the wedding gif incident, Ji Woon confronts her and throws the money at her as she clearly only came for that. But Ha Won's had enough and fights him back, yelling at him for throwing money that way without any consideration. After being pinned against the wall, she does the same to the knight, threatening him to never do such a thing again to her.
I fell in love at that point.
Even if they don't want to run into each other again, they do when she goes back tot he hotel to retrieve her clothes and trying to find her phone, after Ha Won's realised she got it switched somehow. Ji Woon takes pity on her and helps her to get in and ask, but there's nothing of her. They bicker some more and what I love is that when he insults her, she smacks him and tells him off for treating her that way.
But even if they really don't want to see each other again, it happens when Ji Woon's cards are frozen, his old life bought to turn their backs on him. Ji Woon is, basically, on the streets now. With no where to go and little cash, he goes tot he movies and coincidentally, that's one of Ha Won's ten part-time jobs. They meet there and this time she helps him out, buying him food to repay him for the hotel help.
Ji Woon notices Grandfather there who gives him an ultimatum to go back to the Sky House, still Ji Woon refuses and leaves, and with what little money he has the knight rents a small room for himself.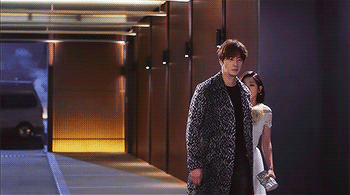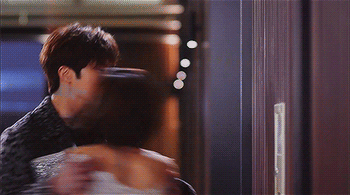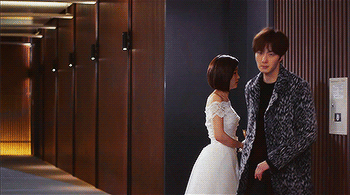 Once upon Kang Hyun Min
After being completely rejected with a shoe thrown at him, Kang Hyun Min doesn't seem affected even when he is scolded for pulling such a dumb move. He is told to go meet his real fiancée but, obviously, he doesn't take it seriously and tries to flirt with the girl. As fiancée-to-be doesn't take this as anything else but business, Hyun Min uses any chance to get rid of her, so when he sees Hye Ji coming in, he hugs her and kisses her. It has the desired effect, but Hye Ji is repulsed with him and his cruelty. It's mentioned something that happened ten years ago, something that changed him and turned him into, in his Grandfather's words, a total player. What happened? We don't know yet but I'm totally intrigued.
As Ha Won is being harassed by reporters, Hyun Min shows up to save the day, rescuing her and taking her away. The chaebol totally thinks she's swooning after him with such gallant actions, but she's just annoyed to be involved and demands him to do something about it. This is a new chance for Hyun Min to show how amazing he is so with one call and the right words, he manages to get every article related to Kang Hyun Min's fiancée taken down. This time he really expects Ha Won to fall for him, he is head over heels over himself, being so overly dramatic but she is more impressed that the power of money can really do such a thing. Hyun Min learns that day one thing money can't buy: Ha Won's smile.
Once upon Kang Seo Woo
As predicted, with the phones swapped, Ha Won and Seo Woo have to meet to exchange them. She manages to call him and the singer picks up this time, when he does she tells him how to unlock it and asks him to please tell her what the text messages say after succeeding at unlocking it. He checks, all excited saying they come from her sister, but when he sees the nasty words he feels bad and instead tells her that they are expecting her for dinner and that her father is coming. Ha Won is delighted and actually thanks him.
Obviously, as the texts didn't say that, he deletes them, but Ha Won still believes him. Seo Woo is left feeling uneasy because of what he did and he really has no clue the repercussions of his lie.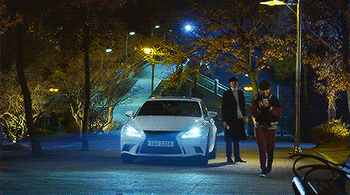 Once Upon Lee Yoo Sung
Finally, we have interaction between Cinderella and the fourth Knight! And more scenes with Lee Yoo Sung. He helps Grandfather to do some background search on Ha Won and actually brings her to the chairman so they can properly meet and the man can make his request. Yoo Sung also does a presentation on the cousins and he tries to be as polite and positive as possible, but every time he is talking about a cousin the grandfather sums it up more effectively. From the older to the younger, a total player, a thug and a good-for-nothing.
I love Grandfather, his lame humour is actually really amusing.
Later, when Ha Won finally accepts the deal to reform the cousins, she stands in front of the Sky House, with rain pouring on her and making her look so miserable. Yoo Sung comes with an umbrella to protect her, guide her inside and also remind her that while she is staying here, dating is strictly prohibited. All this while the other three knights approach them in the most dramatic way after being told how everything was going to change in the house.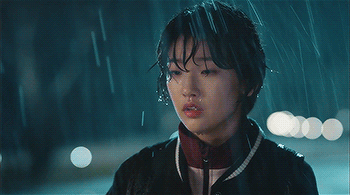 I don't know about you guys, but I loved the series even more in this episode. I'm totally infatuated with Ha Won, she is strong and confident, also very smart but her situation, so desperate, makes her take desperate measures. I so look forward to the dynamics and how she'll turn the cousins into decent human beings. I'm loving this K-drama and dying for episode 3. Hopefully Friday will come soon! Until then, let's just wait and share our thoughts on the comments.
---
The selection of scenes and gifs were made by Bel, just a regular fangirl who spends too much time watching K-dramas. If you want to make use of the gifs, please give credit.
In This Article
---
---