Rainbow Recaps: Doctor Crush Episode 18
---
---
After the delay because of the Olympics, episode 18 of Doctor Crush is finally out and we can see how the story progresses. We approach the finale and things slowly start to wrap up. Curious to see what happened on this episode and the rainbow I made out of it? Then check it out.
Episode 18
The episode starts with a memory from Ji Hong's past which shows us how much he resented his uncle back then but at the end the man got what he deserved. The memory plays as a lesson regarding karma and that helps us understand better why Ji Hong doesn't believe in revenge but just being happy right now. The argument between the leads doesn't get anywhere and Ji Hong ends up leaving while Hye Jung continues hurting because she feels hopeless.
Kang Soo is awake and doing fine, everyone is relieved because of that and I'm the one who can finally breathe. I was so scared for my puppy. He will be able to continue his path to be a good surgeon, but he'll need to take some time off for that, which is a problem as he doesn't have a place (with being an intern he did not need one before). Luckily, Tae Ho offers him to work as their secretary until he can go back to work as a doctor.
Yoon Do finds out how Director Jin is involved in Hye Jung's grandmother's case and decides to finally accept that offer to become a board member, just to help her out. Hye Jung, on the other hand, has made a decision and comes to tell Director Jin she wants him dead. No, she won't literally kill him but she'll stick around him until she sees him fall, however it happens. It's a threat and Director Jin suspected she'd say something incriminatory so he recorded the whole conversation. But recordings can be edited and he only leaves it at "I'm going to kill you" and other bits that only make it sound bad. As she hasn't acted on it, he can only use her background to support his sue and that is how he black mails Ji Hong. In exchange of dropping the legal charges, Ji Hong needs to stop being a doctor and dedicate to research only. Obviously, Ji Hong agrees in order to protect Hye Jung, yet he does't tell her that when he goes and they make up after their fight.
During this time, Seo Woo has noticed how other employees don't seem to like her father and the fact he was so harsh on Hye Jung is only suspicious, so she starts, finally, realising there's something there. I can tell she's grown and is acting more maturely this time, and it's good that Young Kook is by her side. He's such a good support and influence for her. Seo Woo tries finding out from Hye Jung but this doesn't want to tell her what her father did. Hye Jung confesses that seeing Seo Woo always reminds her that time they got along and hung out together. It's sad, I loved those moments, too. Later she decides to "stop this." I'm not sure what she means but it has to do with her father and she calls Soon Hee about it.
After Ji Hong and Hye Jung make up, the loyal groom with the brain dead bride decides to take her off or life support because he can't keep making her suffer like that in his now selfishness. He confesses that to Hye Jung who goes to him even if she is on suspension.
There's the board meeting where Ji Hong's and Director Jin's proposals are put down to votes. Yoon Do takes part of it now. And after that, three weeks go by. I assume they took the bride off life support, though. It is shown that Doctor Jin's Senior Centre was approved, which is a bummer.
Hye Jung is back, Kang Soo has become temporary secretary for Tae Ho so he can keep earning an income and find a place yet still taking some time off from being an intern. Tae Ho and Ji Hong keep looking for something against Director Jin and Tae Ho has finally found evidence that it was Director Jin who leaked the information about the stocks and who has been stealing money from the hospital for himself. They set to find more evidence, realising that whatever Director Hong had on Director Jin and his father, he must've had another copy so they need to find it.
Without agreeing on it, Yoon Do is also on Director Jin's case and ha found some evidence he uses to threaten the director to leave Hye Jung alone. Director Jin is offended and enraged, but I'm so pleased.
Director Jin tells Hye Jung about why Ji Hong had to start to do research just to protect her from her recklessness. She is hurt and feels incredibly guilty for causing him that, feeling terrible because he didn't even tell her. She goes to see him just when he's finally found the copy and the evidence to really strike Director Jin. Ji Hong acts brightly when Hye Jung tells him she knows and that it's unfair she's always a burden to him, but he reassures her she's just doing that because he loves her and she shouldn't feel bad, instead just hug him. He seals that with a kiss.
Now bring the rainbow!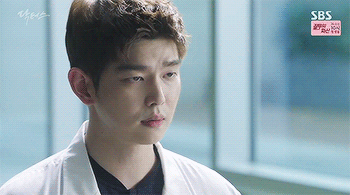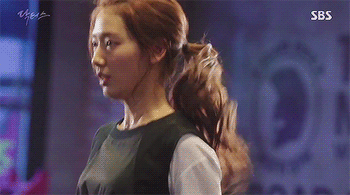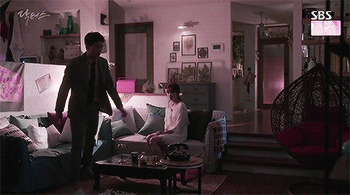 About the episode:
Obviously, I'm enraged because I despise Director Jin and his father. I can't stand that they are getting away with anything, even if it's temporary. They are such nasty people and I just want them to pay for all their crimes. I'm relieved evidence was found and it will be exposed. I hope they rot in jail, honestly.
What made me really happy about this episode was Seo Woo. Impressive, isn't it? She's grown and I see her really standing up against her family. She stopped being the puppet and is becoming her own persona. I hope she can help to take her father down from a place he doesn't deserve, but I'm sure it'll still be hard for her. I don't envy her and her situation, at all.
There are only two episodes left and I'm sure things will get nastier before they get better so let's get ready for the rollercoaster that the episodes ahead will be. Our leads are a stable couple so I don't think the drama will be focused on them, unless one of them is hurt in a crazy and totally unnecessary accident (you can't never discard that option in a K-drama). The conflict clearly revolves around the hospital management and the hateful characters finally getting what they deserve. I can't wait for that moment. They have made watching this K-drama a hard task because they are just so distasteful. I want justice for Grandmother and every other character that has been wronged by this men's unstoppable greed. I really look forward to that.
What about you? What are your thoughts on the episode? Fears or theories for the final? Let's share it on the comments.
---
The selection of scenes and gifs were made by Bel, just a regular fangirl who spends too much time watching K-dramas. If you want to make use of the gifs, please give credit.
In This Article
---
---