Rainbow Recaps: Doctor Crush Episode 3
---
---
Week two of Doctor Crush has come and episode 3 is out already. Before the next one comes out today, let's go back to what happened on the latest episode and see the colorful gifs I made to recap it, shall we?
Episode 3
Firstly, I need to apologise for mistaking Soon Hee's name on the previous recap. I used Yoo Na (Hye Jung's step sister, apparently). My deepest apologies.
Now the episode.
It starts with Ji Hong having a talk with Seo Woo's mother in his attempt to protect Hye Jung, but it doesn't go as planned, and we've discovered what character I already despise (the cunning mother). Thus, as he can't really help Hye Jung, he hands in his resignation.
But that's not the end of all the problems; with the fire and Seo Woo getting hurt, now Hye Jung is taking all the blame and being processed as arsonist. Ji Hong goes visit both girls, also figuring out Hye Jung was burnt and attending her injuries. Seo Woo is claiming Hye Jung tried to kill her, which we know it's a big fat lie and I'm angry.
Things keep getting complicated and when Grandmother finds out she tries her best, apologising to Seo Woo's family but guess who treats her like trash? Exactly, the mother. Aish!
Nevertheless, Grandmother visits her Hye Jung and scolds her properly for her attitude and no matter what, she'll keep coming and feeding her girl. Later she also manages to confess that she has stomach cancer but she'll get surgery because she wants to live so Hye Jung better do her best to live her life, too. At this point I'm already an emotional mess.
Ji Hong is leaving, for Hye Jung's sake. Soon Hee gathers the courage and confesses she started the fire and it was an accident. She sticks by Hye Jung because for the first time in her life someone treated her like an equal. I find their friendship beautiful and how Soon Hee reminds her that she didn't leave and ran away. I'm sure Hye Jung will never forget this.
With this confession, Hye Jung is released and she goes to beg Seo Woo to tell the truth and that it was an accident, but she won't budge even when our girl kneels. Accepting defeat, Hye Jung goes home back with her grandmother and now can be with her before the surgery. It's all nice with the two of them and Grandmother has full trust on her doctor.
Grab your tissues because things go wrong.
Clearly, the doctor wasn't paying full attention because he even answered a call in the middle of surgery, and he also underestimated the tumour. They lose Grandmother in the operation room and I'm sobbing already. Then they come out and the doctor disregards Hye Jung who breaks down crying her soul out (like I do).
The doctor knows he did wrong and gives retribution money to the adults because "they have better judgement." Hye Jung's stepmother accepted the money and blames Grandmother's death on Hye Jung, of course. Another disgusting human there. But Hye Jung knows there was negligence and tries to confront the doctor. However, she has no proof or any way to make justice for Grandmother, which is most upsetting.
Ji Hong finds out what happened and goes looking for Hye Jung but she knows she'll only be a hindrance in his life and tries to cut ties. Ji Hong almost accepts it but then runs after Hye Jung, although he's too late. Soo Chul already got a hold of her and is taking her away from all this pain. Ji Hong lost that chance to crazily fall in love, as his thoughts explain it.
13 years later we are back with Hye Jung and the gangsters and then her operating on the leader. We also know Seo Woo is crushing on Jung Yoon Do (played by Yoon Kyoon Sang) who seems to be a sunbae who is in charge of the ER in the hospital Hye Jung just joined. And that's where the episode end, with Hye Jung operating on the gangster leader.
Now bring the rainbow!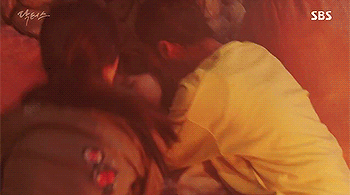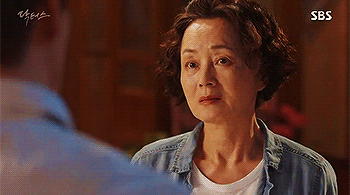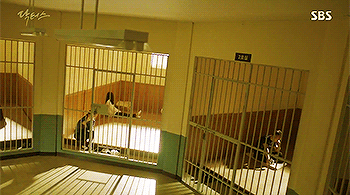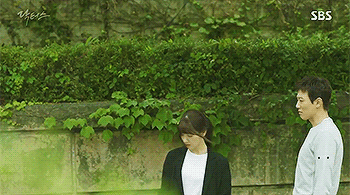 About the episode
I didn't think I would sob so early in the series, but I did, because of what I predicted. For a moment I hoped things would go well with Grandmother, but I was proved to never trust my hopeful side. It broke my heart that the only real family Hye Jung had was taken away not because of an illness but negligence. I hope and pray justice will be served, even if it's thirteen years later.
This episode showed us how justice treats unfairly and judges based on background, but I'm so relieved Soon Hee stepped forward and didn't abandon Hye Jung. That friendship is beautiful and I hope they are still friends now and nothing bad happened to her, she clearly also needs someone like Hye Jung by her side.
Until now I wasn't sure Ji Hong harboured real feelings for Hye Jung, at least not certainly, but now it's evident he did and he was just being cautious, and because of that he lost a chance but in all honesty, it's better. It would've been too messy and made things worse back then. Now we have to wait and see how he makes a comeback in her life.
We finally were introduced to another lead (not sure if he'll be a romantic interest yet or not) but I can already see Yoon Do developing a crush on Hye Jung and Seo Woo being even more jealous and bitchy because of this. If the story repeats, I'm going to get in the K-drama and kick her ass, I promise. Enough is enough with petty jealousy. And talking about Yoon Do, he doesn't look that promising. He was clearly leaving Seo Woo alone when she got in a situation so I don't think of him as someone reliable. So far I don't like him at all.
What are your thoughts on the episode? I'm not sure if we'll get more flashbacks of the past, but it's clear we are back to the current timeline and we'll see how things develop from now on. I'm very excited about it!
Episode 4 comes out today and you can watch it on DramaFever. Add it to your queue!
---
The selection of scenes and gifs were made by Bel, just a regular fangirl who spends too much time watching K-dramas. If you want to make use of the gifs, please give credit.
In This Article
---
---