Seoul protest rally turns violent, leading to dozens injured
---
---
Tens of thousands of people were gathered together in Seoul, in what was believed to be the largest anti-government protest in the country in many years, to protest their grievances towards the Korean government and even call for the resignation of their nation's leader, President Park Geun Hye. In an attempt to disperse the ever-growing crowd of citizens, the Seoul Police Department used tear gas and water cannons, leaving at least 30 people injured.
On November 14, an estimated 80-130 thousand people gathered near the presidential office, the Blue House, to mainly protest against President Park's textbook policies and work reform. The student protesters, many of which are only of high school and college age, said that the new textbooks that are to be issued in 2017 would whitewash the Korean Independence Movement and the infamous legacy of former dictator President Park Chung Hee, the current president's father. These concerns led to the organization of a peaceful protest against the president herself.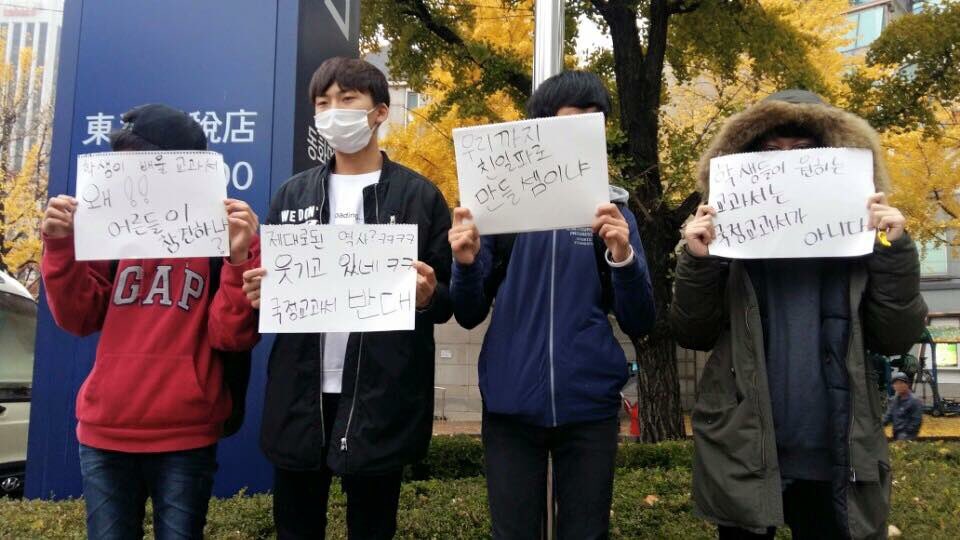 ''
The Seoul Police Department blocked the protesters by creating a barricade of approximately 7 hundred linked buses and began to water cannon the protesters from behind it. The water shot from the water cannons was laced with oil, tear gas, and blue paint (which was used to identify those involved with the rally, who would later be arrested), leaving many injured. There was no immediate tally of those injured, but it has been reported that at least one man is in critical condition after being shot directly in the face.
The Korean government has released a statement vowing to show no tolerance towards any more protests that can be seen as violent or unlawful, stating, "These activities were a grave challenge to law and order and public authority, and they will not be tolerated." In the aftermath, some of those who participated were arrested by the police, who have at least 51 of them in questioning for various charges including illegal protest, assaulting police officers, and destroying public equipment, while the country's education ministry is calling for disciplinary action against more than 21,000 teachers who were involved in protesting against the textbooks.
We give our hearts out to both those who were involved in this tragic occurrence and their families and hope that all goes well in the future for the Korean government and the Korean people.
Images via
---
---