The acting evolution of Are You Human Too's Seo Kang Joon
---
---
Some might think it was easy for a man as good-looking as Seo Kang Joon to succeed as an actor. "They could say I was lucky. But I worked hard before I got my first gig, and I'm still working really hard," the actor said in a 2014 interview, adding, "Looking back, I think I loved acting more than others around me. I feel so loved now, and I wonder if that's why." Let's walk through his acting career from an extra in A Gentleman's Dignity in 2012 to the star of Are You Human Too in 2018.
2012: Seo Kang Joon had a brief stint in modeling in high school, which he quit after walking on the runway of 2011 F/W Seoul fashion week. He then enrolled in acting classes with the money he'd saved from part-time jobs. After high school, he starred as extras in A Gentleman's Dignity and To the Beautiful You. The above GIF is from an audition in 2012, where he said, "I once imagined the audience feeling what I feel. And that became my dream."
2014: Seo Kang Joon had a part in Choi Ji Woo's Suspicious Housekeeper in 2013. By the time he played a second lead in Sly and Single Again in 2014, everyone in the dramaland was taking notice of him. The following year, he starred in the "Flower Boy" edition of Running Man (Jan. 8, 2015, episode).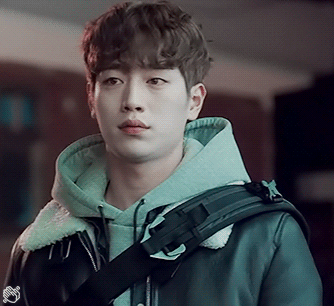 2016: Who would've played the rebellious Baek In Ho better than Seo Kang Joon in Cheese in the Trap? This is when--let's admit--we started taking notice of him, for his light brown hair, sharp gaze, and acting skills. In Entourage, he solidified his position as one of the top Korean actors in his 20s. In the Christmas episode of Superman Returns in 2016, he babysat the five Lee siblings.
2018: This year, Seo Kang Joon got his first lead role from one of the major broadcasting companies: Nam Shin in KBS's Are You Human Too. In this sci-fi romantic comedy, he plays a robot who gradually feels human emotions and learns to think for himself. He falls for his tomboyish bodyguard, the only person who accepts him as is.
So what's on the horizon for Seo Kang Joon? He confirmed to star in The Third Charm (JTBC) with Lee Som, a love story of a couple who spends all of their twenties together. The second drama he's starring is called Something About Us (undecided), a webtoon-based K-drama on college romance.
---
What do you think of Are You Human Too so far?
Follow whatakdrama on Instagram, Facebook, YouTube and Twitter, and visit the website.

In This Article
---
---