Top 6 scenes from Another Oh Have Young: Episodes 17 & 18 (Finale)
---
---
Another Oh Hae Young has come to an end and it's still hard to believe it. It's a series I fully enjoyed and that made my weeks brighter. I have to admit I was reluctant to watch the two last episodes because I didn't want it to end, hence why I didn't post this sooner (that and the fact I discovered making so many gifs actually leaves me with a sore hand and I needed a few days to recover). But here it is, the last best 6 six scenes of the final episodes of Another Oh Hae Young to go back and say our final goodbyes. Who knows, maybe we should read this and marathon it all over again? Let's see the last scenes I picked.
From episode 17: I could die today with no regrets
Number 1: I love you, too
So Do Kyung has finally expressed he loves Oh Hae Young and she's the happiest about it. Duh! And because she's the beautiful straightforward and blunt person she is, she screams at the top of her lungs how much she loves him. But Do Kyung isn't used to all this display of affection and is embarrassed. He can't escape her and ultimately just smiles back. I chose this scene because it was cute and funny and the betrayed expression on Hae Young when Do Kyung runs is most amusing.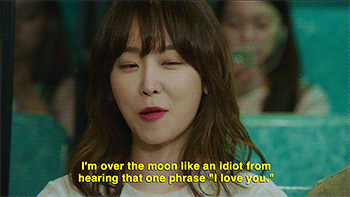 Number 2: When I tell you the truth
Finally, only seventeen episodes later, Do Kyung tells Hae Young about the visions and the theory their present is just the past, that his regret goes beyond the limits of time and reached him now. She is a bit overwhelmed and touched but decides to believe him. Of course he is relieved and grateful to her. Hae Young admits that she's so happy that she could die now without regrets, and that's exactly what he needed to hear. A cheer for communication and being in love, so I picked it.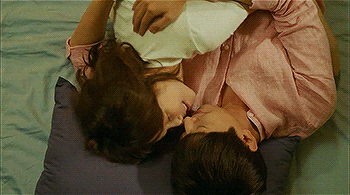 Number 3: A chance to be with you
Okay so I got rally scared before this scene because it seemed Tae Jin was really going to run Do Kyung over. I was screaming "GO BACK INSIDE DON'T RUN BE CLEVER YOU IDIOT!" But characters never listen to me *sighs*. However, Tae Jin pulls himself together and realises this is not the way to go, just scaring Do Kyung and then walking away, saying it's over. We all got scared here, with Do Kyung saying goodbye. Hae Young finally fully believes Do Kyung story and runs to him, they meet on the bridge and just run to each other's arms. I had to use this scene.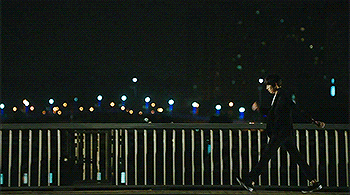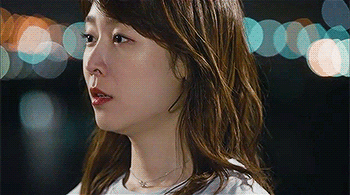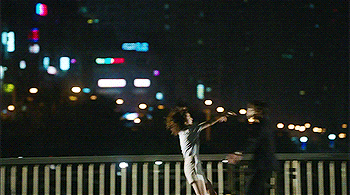 From episode 18: Finale
Number 1: Be happy together
In her fear to lose Do Kyung, Hae Young just wants to live with him but it's hard to explain. Her omma still doesn't seem any closer to accept him but agrees to allow them to live together if that's what her daughter wants so they go to drop her off. Do Kyung finds them on their way and asks for her hand in marriage, to which they agree on and give them their blessing to live together. Omma is cold and severe, but she senses there's something off, assuming he is sick. In their way, they worry and accept they love each other and Do Kyung really wants to be with their Hae Young.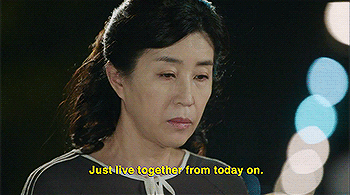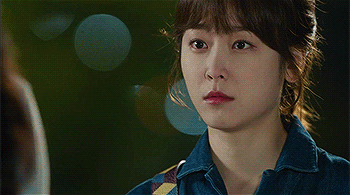 Number 2: "I saw everything"
After Hae Young's parents's consent, they are all over the place, kissing and being a couple unaware Jin Sang is there not knowing how to escape. Soo Kyung comes to the rescue and eventually it's revealed that yup, he saw everything and is making sure to embarrass the couple while trying hard not to say they'll start living together. I was laughing so hard I just had to make a gif-set of this.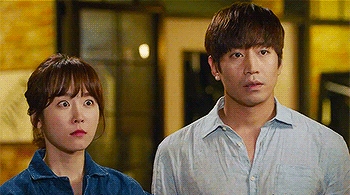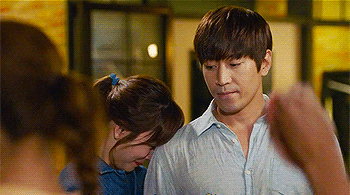 Number 3: He is going to be okay
The accident still happened. Fixed points in history are just unchangeable but this time, as I expected at some point, Hae Young makes it to his side, holding his hand and he isn't consumed by regret. The ambulance comes in time and takes him to the hospital. Not only Hae Young but so many others are waiting patiently but hopeful, just assuming Do Kyung will be fine, getting in fights and making everyone look at them with weirded out expressions. It's what Hae Young needed and that helps her go through the ordeal and fear of waiting for the surgery to be over.
Thankfully, he makes it through.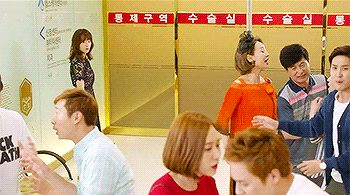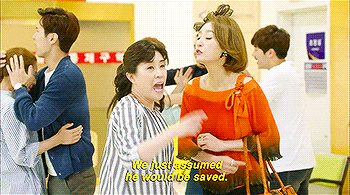 Bonus: A happy ending
After Do Kyung survives what can come if not a beautiful wedding? Nothing and it seemed only fitting that the bonus scene is our beloved leads getting their fairytale-like happy ending.
Well, wasn't that cute? Surely, the accident and surgery felt rushed, after all it was a ghost lurking around the whole series, but it wasn't the whole point of conflict, just a reminded that life is uncertain and we don't know what can really happen or how it'll happen so we can only live the day, enjoy our lives. Sappy, but what else can we do?
I'll miss this K-drama, these characters and everything about it. I enjoyed it until the end and I don't have anything else to add, to be honest. Yes, there's always some loose end but we can't expect it to be perfect, can we? At least no one died and we got a pretty wedding and a dance number at the end.
Thank you for reading this recaps and enjoying the gifs. Thanks for bearing with my limited skills and the learning process to deliver something better. I tell you now I'm working with Doctor Crush and I'll be providing recaps and gif-sets for Let's Fight Ghost, too. So If you're watching those, I'll see you there every week.
Now, why not marathoning Another Oh Hae Young?
---
The selection of scenes and gifs were made by Bel, just a regular fangirl who spends too much time watching K-dramas. If you want to make use of the gifs, please give credit.
In This Article
---
---