WATCH ONLINE​: Age of Youth, starring Park Eun Bin and Han Seung Yeon
---
---
What happens when five college girls with completely different personalities have to learn to live together as roommates during one of the most trying times of their lives? Age of Youth, starring Park Eun Bin (Choco Bank), Han Seung Yeon (KARA: Secret Love), Han Ye Ri (Six Flying Dragons), Park Hye Soo (Yong Pal), and Ryu Hwa Young (Descendants of the Sun), reveals the laughter, tears, and growing that happens in modern women's early twenties as they navigate the treacherous waters of work, school, dating, and adulting while maintaining relationships with each other, and you can now watch it online on DramaFever!
Synopsis
Han Ye Ri (Six Flying Dragons) and Park Eun Bin (Choco Bank) head an ensemble comedy about friendship, love and college tuition. University student Yoon Jin Myung (Han Ye Ri) is busy supporting herself both academically and financially, so she understandably has a severe shortage of sleep and little time for drama. Unfortunately, living with four roommates has its share of drama. There's Song Ji Won (Park Eun Bin), whose drinking habit does nothing to tame her bright personality. There's Jung Ye Eun (former KARA member and Secret Love star Han Seung Yeon), who is completely devoted to her boyfriend and is very clear on what she does and does not like. There's Kang Yi Na (Descendants of the Sun actress Hwa Young), whose popularity comes almost exclusively from her stellar good looks. And then there's Yoo Eun Jae (Yong Pal alum Park Hye Soo), who is rather timid but has a very unique taste in men. Together, they navigate the many challenges that life will throw their way because, well, what else are roommates for?
Age of Youth is the latest drama from director Lee Tae Gon, an industry veteran responsible for the blockbuster My Love Eun Dong. Critically-acclaimed screenwriter Park Yeon Sun, whose extensive resume in both film and television includes hits such as Attack on the Pin-Up Boys, returns to the writer's chair nearly four years after her work on Wild Romance. The first episode of Age of Youth airs on jTBC, with subsequent episodes airing every Friday and Saturday at 8:30PM, in the time slot vacated by the conclusion of Mirror of the Witch. The show is expected to run for 12 episodes, with a finale scheduled for August 27, 2016.
The full cast for Age of Youth includes Han Ye Ri as Yoon Jin Myung, Park Eun Bin as Song Ji Won, Han Seung Yeon as Jung Ye Eun, Hwa Young as Kang Yi Na, Park Hye Soo as Yoo Eun Jae, Yoon Park as Park Jae Wan, and Ji Il Joo as Ko Doo Young.
Trailer
Posters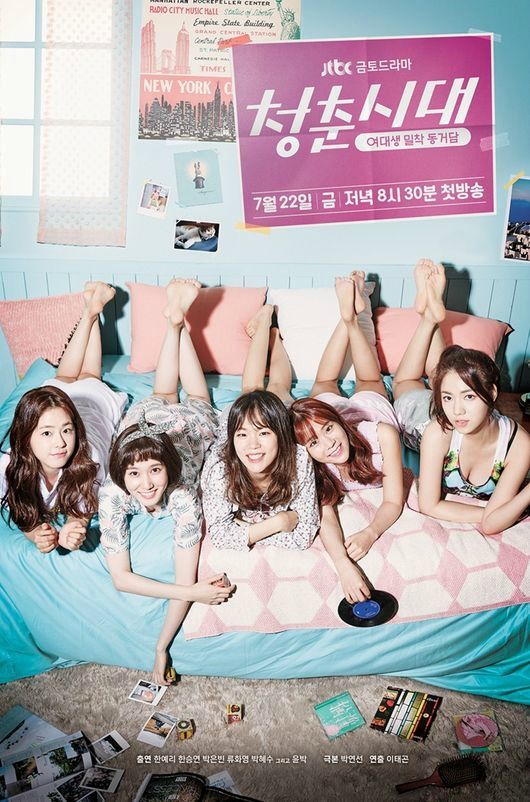 Watch Now
In This Article
---
---