WATCH ONLINE: Jealousy Incarnate, starring Gong Hyo Jin, Jo Jung Suk, and Go Kyung Pyo
---
---
What happens when an arrogant star reporter finally falls for the underdog weather girl with the one-sided crush, but it's too late because she has now fallen for the charming chaebol instead? Find out by watching new office romance Jealousy Incarnate, starring queen of romcoms Gong Hyo Jin, Jo Jung Suk, and Go Kyung Pyo, right here on DramaFever!
Synopsis
Jo Jung Suk (Oh My Ghostess) and Gong Hyo Jin (It's Okay, That's Love) star in a romantic comedy that broadcasts straight to the heart. Lee Hwa Shin (Jo Jung Suk) is a handsome anchor with notable journalistic talent, a well-to-do family and commendable education. He is also as fierce a competitor as one will find in the world of reporting, and goes after stories relentlessly. But as luck would have it, he also comes across another fierce competitor -- meteorologist Pyo Na Ri (Gong Hyo Jin). Pyo Na Ri doesn't have the shining resume of her anchor counterpart, went to a third-rate college and only has a temporary contract with the station. Although her dorky exterior hides an inner fire, Na Ri has worked extremely hard to get where she is, even doing odd jobs like lifting boxes. Both anchor and meteorologist now see each other as rivals in their race to becoming the station's most valued employee. But what happens when the two rivals start to fall in love? The drama may be too much, even for a broadcasting station. Adding to the tension are Ko Jung Won (Answer Me 1988 star Go Kyung Pyo), a chaebol luxury brand store owner who is the exact opposite of Lee Hwa Shin in terms of politeness and Kye Sung Sook (A Thousand Days' Promise actress Lee Mi Sook), an anchor who started off as a reporter and has charisma no man can beat.
Alternatively known as "Don't Dare to Dream," Jealousy Incarnate is the latest project by director Park Shin Woo, the versatile head behind Angel Eyes and Queen of Ambition. The drama is written by Seo Sook Hyang, whose ever-expanding portfolio of romantic hits includes beloved series like Pasta, Romance Town and Miss Korea. Jealousy Incarnate airs on SBS on August 17th, 2016, with subsequent episodes airing every Wednesday and Thursday at the 10PM time slot vacated by the thriller Wanted. The show is expected to run for 24 episodes, with a finale scheduled for November 03, 2016, where it will be replaced by The Legend of the Blue Sea.
Trailers
---
Posters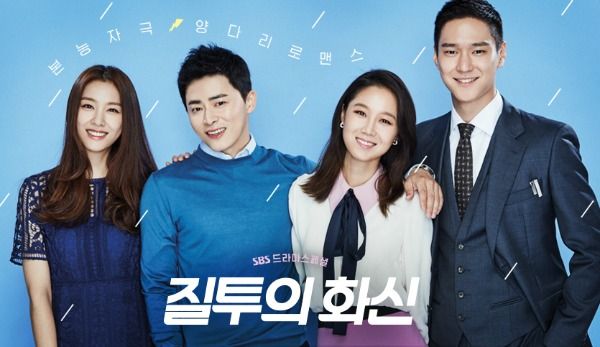 Watch Now
In This Article
---
---