​5 reasons why we ship the Song Song couple
---
---
When Song Joong Ki and Song Hye Gyo announced plans to marry, we shouted: the Song Song couple is real! Here are five reasons why we cannot help but fall in love with the Descendants of the Sun costars-turned-couple.
1. The chemistry is undeniable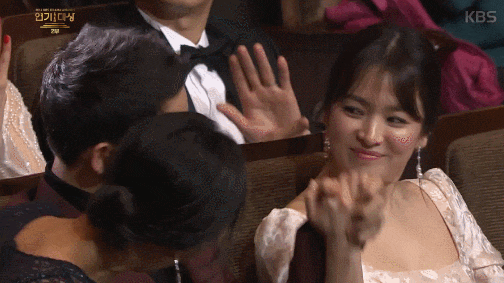 On Dec. 31, 2016, Descendants of the Sun's Song Joong Ki and Song Hye Gyo received the grand award, which was the first joint award in KBS Drama Awards' 30-year history. In the clip above, you'll see Song Song couple holding hands tightly seconds before hearing their names announced. On stage, they thanked each other as quoted below:
Song Hye Gyo: I could have gotten on stage for this award because of the best partner, Mr. Song Joong Ki. Without him, I wouldn't have been on stage right now. I would like to thank Joong Ki again.
Song Joong Ki: I give all the honor to my big sunbae and beautiful, lovely partner, Hye Gyo noona. Thank you noona.
2. They're good-hearted
Song Joong Ki said on recently donating 20,000,000 won (17,881 USD) to a shelter for comfort women victims, "I was influenced by Song Hye Gyo." He added, "I learn things from her as an actor and person."
For years Song Hye Gyo has been donating to different causes. Most notably, she worked with museums worldwide to provide floor plans and guides written in Korean. The Korean pamphlet in New York City's Museum of Modern Art is a work of hers.
3. They're romantic
They denied dating rumors twice--in New York and Bali--to protect each other. After the July 5 wedding announcement, Dispatch said Song Joong Ki had proposed to Song Hye Gyo at a Tokyo restaurant called Mapu (麻布) in January. A Japanese fan of the couple shared more details on Twitter: "I heard from a friend who works at Mapu that Song Song couple and staff members had visited the restaurant and had a marriage proposal event … Song Hye Gyo cried and showed off the ring to a (probably Descendants of the Sun) staff member. Isn't she cute? … It's uncertain whether he proposed that day but they definitely had some sort of event. I'm happy it happened in Japan."
4. They love their job
The talented actors plan to work even harder after the wedding!
"After the wedding, we're going to start filming," Song Joong Ki said in Monday's interview. "Both of us have so much work and there are a lot to prepare before shooting starts. I don't think we can travel (for honeymoon)." Regarding his next drama, Song Joong Ki replied, "Nothing is confirmed. I'm thinking more carefully about it than ever before because it would be my first drama after marriage."
5. Their babies are going to be so adorable!
Need we say more?!
---
Why do you ship Song Song couple? Tell us in the comments below!
Follow whatadrama on Twitter @whatakdrama.
Photo courtesy as watermarked or otherwise referenced.
Source: via
In This Article
---
---